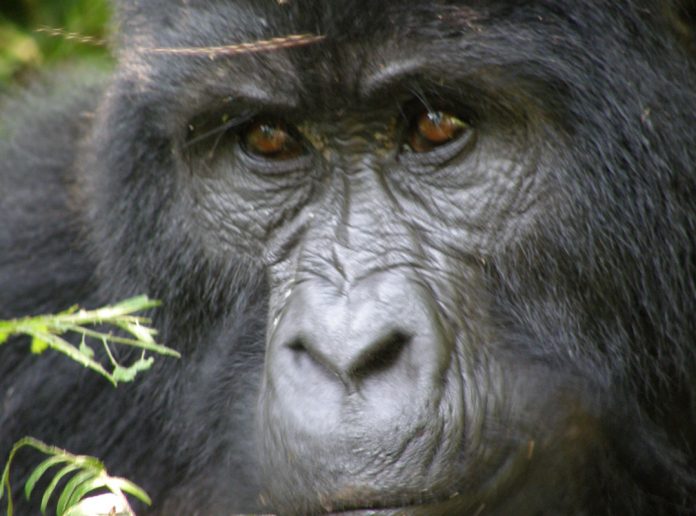 One of the classic experiences you can take on the African continent is gorilla trekking in Uganda, Rwanda, the Democratic Republic of Congo or Gabon. Tracking the mountain gorillas in the beautiful Bwindi Impenetrable forest, Volcanoes National Park or Virunga National Park is one of the best wildlife experiences you can ever take on an African safari. Mountain gorillas are the rarest primate in the world with about 1000 living in the wild. Nothing will ever prepare you for the first glimpse or the sound of the silver back pounding its chest amidst the dense undergrowth on a gorilla watching safari. Here's a little guidance for those looking to tracking the gorillas in Africa:
Where to Go Gorilla Trekking
There are only ten countries on the African continent that host the gorillas. These are Uganda, Rwanda, the Democratic Republic of Congo, Gabon, Angola, Central African Republic, Cameroon, Equatorial Guinea and Nigeria.
Among these only 3 countries host the mountain gorillas and these are Uganda, Rwanda and the Democratic Republic of Congo.
The Democratic Republic of Congo is the only country that is home to both mountain gorillas and lowland gorillas.
Duration of the Trek
Gorilla trips range from day trips to multi-day adventure packed fun filled safaris that take you various countries. f you are short on time, it is advisable to go to Rwanda. Gorilla trips in Rwanda start from day hikes into the Volcanoes National Park to a week long holiday! If you are having more time and you are looking to exploring more of a country and go somewhere a bit off the beaten path then go to Uganda or take a Uganda Rwanda Safari. If you are an experienced Africa traveler you can chose to go to the Democratic Republic Congo and Gabon however it is advisable to book your gorilla tour with a local based tour operator who can update you with real time information about the places to be visited.
Is a Gorilla Trek Worthy It?
A gorilla safari is one of the top adventure holidays you can take in the wild. The excitement of seeing a 300 pound gorilla is an unexplainable adventure and unlike watching the gorillas in the zoos, this time you visit them in their natural habitats. The mountain gorillas are found within the impenetrable natural tropical rainforests of Bwindi and Mgahinga in Uganda, Virunga National Park in Congo and Volcanoes National Park in Rwanda. Upon booking your safari, the excitement kicks in when you start your hike and get up close to the imposing and magnificent figure of a wild gorilla. You will find a silverback enjoying its day and its all baby gorillas peeking through leaves, playing or hiding behind their mothers. Many travelers have taken their photos showing off by swinging, twisting, turning and somersaulting and this is all the entertainment that will take you back to nature and start thinking how broad our world is.
Cost of a Gorilla Trekking Trip
A gorilla safari cannot be considered a cheap safari given that even the cost of the gorilla permit is quite high if compared with other things to do on an African safari such as game viewing, rhino tracking, and chimpanzee tracking. Gorilla permits cost US$500 in the Democratic Republic of Congo, USD 600 in Uganda and USD 750 in Rwanda. Though the prices look to be high, don't think twice about going out for this genuine once-in-a-lifetime opportunity given that it is great value. Please note that a portion of the fees you pay for the gorilla permits goes to the park and gorilla conservation initiatives, helping to ensure their survival among us! Remember there are only about 880 mountain gorillas left in the wild and the habitats for the gorillas are shrinking given the current threats to conservation in Africa.
A Vacation to the Mountain Gorillas
If you are thinking about taking a wildlife safari or any adventure vacation and you like animals why not do something different and visit the rare mountain gorillas in Africa? Well, do you know tyhat there are just about 880 mountain gorillas left in the world? Do you know that there are only three countries in the world where the mountain gorillas are found? Do you know that these apes are classified as endangered and really need your efforts in order to survive? Tere are about 880 mountain gorillas left in the world surviving within only three African countries; Uganda, Rwanda and the Democratic Republic of Congo (former Zaire). Unlike their counterparts the lowland gorillas, there are no mountain gorillas in the zoos and to see them, you have to take an African safari to one of these three African countries!
Therefore if you are an adventurer who loves animal safaris most especially trips that focus on primates and apes, then you might enjoy going to exotic gorilla trekking safaris. This special get away is incomparable to going to the zoo and indeed it is a better, thrilling and extra ordinary experience. On a gorilla trekking through the parks that host the mountain gorillas, you will actually get to see the animals in their natural habitat, get close with the gentle giants, see them eye to eye this time in their natural wild.
In other words, you will see how they really interact with themselves, other animals, and nature. This is much more authentic than going to a zoo where the animals are held in captivity. You will get to see them up close just as you would in a zoo, but more real and exciting. You will get to see them through your safari vehicle. In other words, you will be driving right up to them and observing them through the windows of your car. Do not entice the animals and you will be safe and sound.