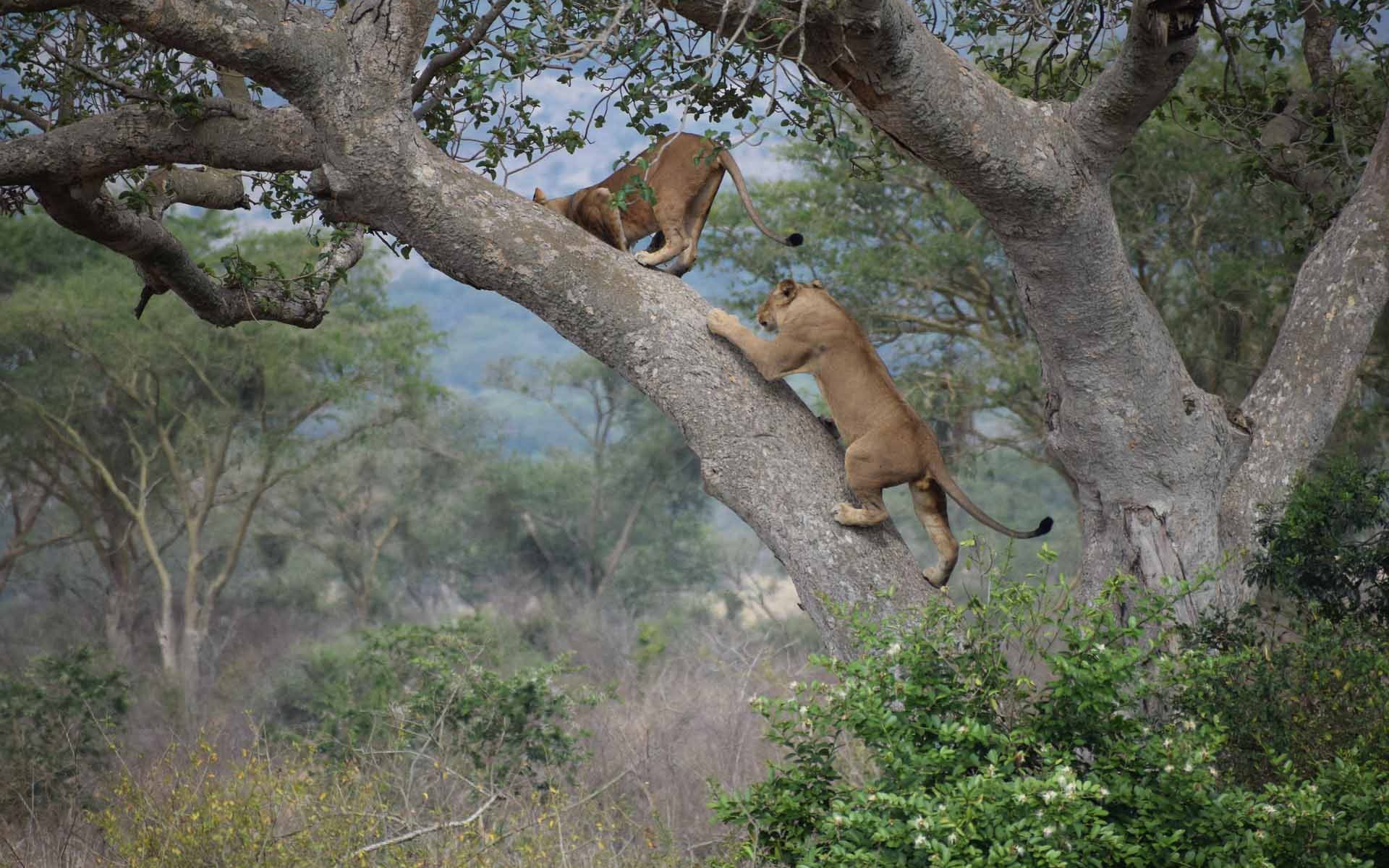 A trip to the western part of Uganda is usually not complete without a visit to the notable Queen Elizabeth National Park. Covering a total area of 1978 square kilometers, Queen Elizabeth National Park spans four districts in Western Uganda; Rubirizi, Kasese, Rukungiri and Kamwenge.
It was originally known as Kazinga Channel National Park but later renamed to the current name in commemoration of the visit by Queen Elizabeth 11 of England.
By location, Queen Elizabeth Game Park is bordered by Lake George, Kyambura gorge & Kalinzu Forest reserve to the east, Ishasha River & Lake Edward to the west, Kasese & Rwenzori peaks to the north and Kigezi Wildlife reserve to the south.
The swampy areas around Maramagambo forest, Kyambura gorge, Lake George and over ten crater lakes add to the list of endless natural wonders that tempt a number of travelers from different parts of the World.
To give a brief highlight about its rich Biodiversity, the Park boasts a number of plant species, 95 mammal species including 20 predators, Chimpanzees and over 610 species of birds. Most travelers are delighted by its Wild animals that include Lions, Elephants, Buffaloes, Sitatunga antelopes, bush bucks, Uganda kob and more.
Whether you are a first timer or coming back for the second time, below are the top must-do things for anyone planning a Uganda safari trip to this home of the notable tree climbing lions.
Chimpanzee Trekking in Kyambura; Chimpanzee primates are rarely seen and Queen is one of the few locations where you can meet face to face with these creatures while in Uganda.
The tracking experience often awards grand opportunities to meet with the Chimpanzees in the Jungles at a distance.
It is done in a group and includes trekking via trails that traverse into the Jungle until you locate these human related creatures. The excursion usually starts with a morning briefing which is conducted to guide the tourists on how to behave while in the Jungle.
Later the journey starts at 7AM and the time to be spent in the forest depends on where these chimps were the previous night. While in the Jungle, you are not only limited to chimpanzees; there is a lot of other things to see including birds, other primates like monkeys, baboons and more.
With Queen Elizabeth National Park, Chimpanzee tracking is offered in the spectacular Kyambura gorge at per person per permit.
If not Kyambura gorge, you can do the tracking in the nearby Kalinzu Forest Reserve, still at per person per trekking permit.
Game Drives; without any doubt, Queen stars an abundant Wildlife species including game, birds, reptiles and insects. You can soak up all of these in a Game drive.
This activity usually involves driving on marked trails with the aim of sighting varied game and different bird species. For incredible sights only vehicles with pop up roof are used for the drives.
Travelers on game drives are fascinated by scenic views of wild animals including elephants, buffaloes, lions, leopards, kobs, heart beasts, spotted hyenas, bush bucks and more together with sunset or sunrise. This park has numerous regions where you can enjoy game viewing and these are Kasenyi plains, Ishasha sector, and Mweya Peninsula
Launch trip Cruise; Other than from a Car, you can as well take in the amaze balls views of Wild animals and other natural sceneries from waters while on a breathtaking boat cruise along the Kazinga channel.
This excursion is amongst the reasons for thousands of travelers to Queen Elizabeth National Park every year. You can do a morning, afternoon or evening cruise, regardless the boat time, all are rewarding.
The cruise takes about 2-3 hours, enjoy viewing the magnificent views of animals that draw near the banks for water. The cruise include a visit to some fishing villages along the channel.