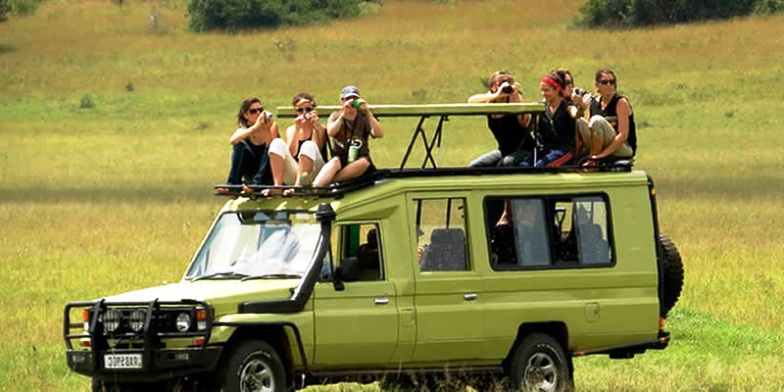 Uganda is amongst the must see destinations in Africa. It is nestled in the Eastern part of Africa, share borders with Kenya in the East, Democratic Republic of Congo in the West, and Rwanda in the South west and Tanzania in the South.
There are a thousand reasons that many tourists visit this country per year, but the major ones are abundant allures, welcoming locals, stable security, ease of accessibility and numerous options of exploring its unmatched natural wonders.
If it's your next target, you have a lot to see particularly for lovers of wildlife, culture, local cuisine and dramatic landscapes. Things to explore are plenty but a question "how to explore" is common for first timers.
The answer is simple, Uganda's natural scenery is explored by two options. You either hire a car for self-drive in Uganda and explore the major spots or book for a customized Safari.
For those who fancy privacy, flexibility and as well adventure Uganda without breaking the bank, the best option is to rent a Car in Uganda. To add on, it's our pleasure to guide you on how to grab best deals on Car Rentals in Uganda as listed below.
Search for a genuine Rental Agency
Usually service providers are available, but it's not a guarantee that they all offer services that meet the clients' needs. With that statement, you should take care as well while booking for a rental in Uganda. It is recommended that you search for the best agency that will meet your needs.
It isn't a simple task to track for the best agency and some of the best ways to make it include; join online forums to ask some questions about Car hire in Uganda, inquire from your friend or relative in case they have ever explored Uganda on Self-drive or read some reviews on platforms like trip advisor, Google and more.
If that's not enough, i can recommend some best agencies, and one of them is 4×4 Uganda Car Rentals. This great car rental agency specializes in providing well-conditioned vehicles like Toyota Rav 4, Land cruisers, Super customs and Safari vans at affordable prices.
Decide on the Vehicle
Before inquiring, it is better you get to know what you are going to do in Uganda, where to go and the best vehicle to take for your holidays.
If your itinerary includes game drives, then don't think of a Toyota Rav4. The vehicles for you are Land cruisers, Super custom or Safari vans.
Time for discount offers
Discounted offers on rentals usually depend on season and the length of the Rental period. In the low season (when there is few tourists in the country) there is low demand for the vehicles, so the rental prices tend to reduce and different agencies give out discounts to beat their competitors.
Other than that, discount offers are guaranteed for those who are taking the vehicle for long term like two weeks and more.
Know their Terms & Conditions
Before confirming your rental with any agency, please make sure to go through their rental terms and conditions to avoid frustrations. To be offered a Car, you must agree to these terms and as well sign on the hardcopy on the day of delivery. Ask the soft copy of these terms and conditions to go through them and decide whether you will go by them or not.
Inquire for advice on Rental
If you are not sure of anything about the rental please ask the reservation agent. They will advise accordingly basing on experience and desire to offer you remarkable services.
Book in advance & Make a deposit
This is recommended to avoid high charges for not worth services. With last minute booking, you are highly charged or you are most likely to miss out on the rental. Therefore endeavor to reserve the Car in advance and make a deposit such that it is one hundred percent booked for you.