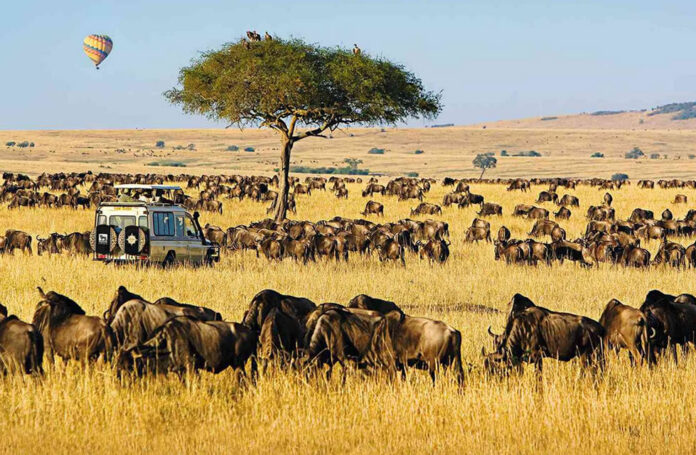 Going on safari is an incredible experience, one that I personally cannot get enough of. The more you go, the more you want to go over again. It is also unlike any other holiday you may have been on and it is therefore helpful to know what to expect when going on your first Uganda safari.
Early wake-up calls and late evenings
Expect to be woken up before sunrise, while it is still dark. Game viewing is best around dawn and dusk because the nocturnal animals are out at that time. Sleeping soon after dinner is a good strategy to wake up early but if you're still tired, you can catch 40 winks around midday, between game drives.
Close proximity to wild animals
You will be in an open vehicle with wild animals in close proximity.  Sometimes they walk so near to your game vehicle that you can touch them – but don't unless you have a death wish. As long as you remain quiet and don't aggravate them you should be fine. When you return in the evenings, it can be pitch black in the bush, with only the stars above you. It is best not to let your imagination run wild. Many safari lodges do not allow children under a certain age on game drives for these reasons.
Do not leave the vehicle
It is important to be quiet and stay seated – with all your limbs – in the game vehicle.  You are not permitted to leave the vehicle without your ranger's permission. As obvious as this may seem, many game rangers will tell you stories about tourists wanting to get off vehicles to take better photos, and selfies with the wildlife (seriously!).
No toilets in the wild
Game drives are usually 3 hours or longer. The longest one I've ever been on was 5 hours. During this time, you will be out in the wild with no toilets. Go to the toilet before you leave, and drink minimally before and during the game drive, unless you don't mind answering the call of nature behind a bush or a tree. Your guide will show you to the lava tree (lavatory).
Be warned though, I have heard tales of guests being approached by lions and other animals while doing this. If this ever happens to you, stand your ground and do not run -even though that may be your first instinct. Running is a sure way to get the lion to chase you.
Over-eat
There is an ever present danger of over-eating on safari! Most safari lodges serve three full meals a day. Now that might be OK if you were also exercising correspondingly – but as you will likely spend most of the day in the back of a game-drive vehicle, this is not going to be the case.
Although most safari camps and lodges stick to a regimen of three cooked meals every day, interspersed with teas, coffees and cake, some have acknowledged that guests are quite comfortable with an early light breakfast to precede the morning activity, a respectable brunch closer to midday after returning to camp and tea, coffee and cakes served after an afternoon nap and prior to the afternoon drive. The main meal of the day, dinner, is then served on your return to camp after the afternoon/evening activity and following a hot shower and a drink by the fire.
You will stop for drinks
On morning game drives, you will stop for a tea/coffee break with some cookies or sandwiches. On evening game drives, cold drinks are offered with snacks, like crisp, dried fruit and biltong. This is a good opportunity to talk to the ranger and your fellow guests. Occasionally, on extremely exciting game drives, the ranger may forgo this break in order to maximize the game-viewing experience.
Safari guides can be very entertaining
Safari guides, game rangers or field guides – whatever they may call them – usually have a lot of experience and can tell you the most fascinating stories about their encounters with wildlife. Speak to them. A good question to start off with is "What was the most interesting/dangerous experience you've had in the bush?" They are usually quite happy to start talking about this. It may be difficult to get them to stop though.
You will not see the Big Five on every game drive
Some days you may see a lot of animals and birds, and other days barely anything. There are no guarantees in the wild. When your ranger starts spending 20 minutes talking about a tree you've just seen, then you can expect a quiet drive. If you see rhinos, do not geo tag the locations? This helps poachers to find them. (The Big 5 refers to the lion, leopard, elephant, buffalo and rhino).
Game drives can get bumpy
Expect a lot of bumping and bouncing around because the roads are untarred. Game rangers refer to this as the African massage at no charge.
Game drives can get cold
No matter how hot it was at the camp, game drives can get quite chilly in the early mornings and late evenings – because you are travelling in an open Land rover at a fair amount of speed. Always carry a jacket.
 No cell (mobile) phone coverage
In the more remote camps. Turn it off – what were you thinking? Many camps nowadays, even some remote ones, have Wi-Fi (via satellite in some cases), so you can often get online and get down your emails (in case you are suffering from communication deficit disorder!).
What to take with
Wear neutral-coloured clothes and comfortable shoes. Long trousers are preferable to avoid being bitten by insects. Take a hat and a jacket. Use sunscreen. And do not forget your camera, and your binoculars.
If you're going to a malaria region, consult with your doctor or pharmacist beforehand. Once you're back at the camp, you can relax and enjoy the luxurious surroundings. You will be waited on hand and foot and will be fed gourmet meals until you feel like bursting. There isn't anything quite like it.
Conclusion
Now that you have a good idea what to expect on safari, why not choose a safari travel destination? For more information, go visit the Primate Safari Experiences. And where you'll see some stunning photos and have an opportunity to meet and greet other safari-goers.