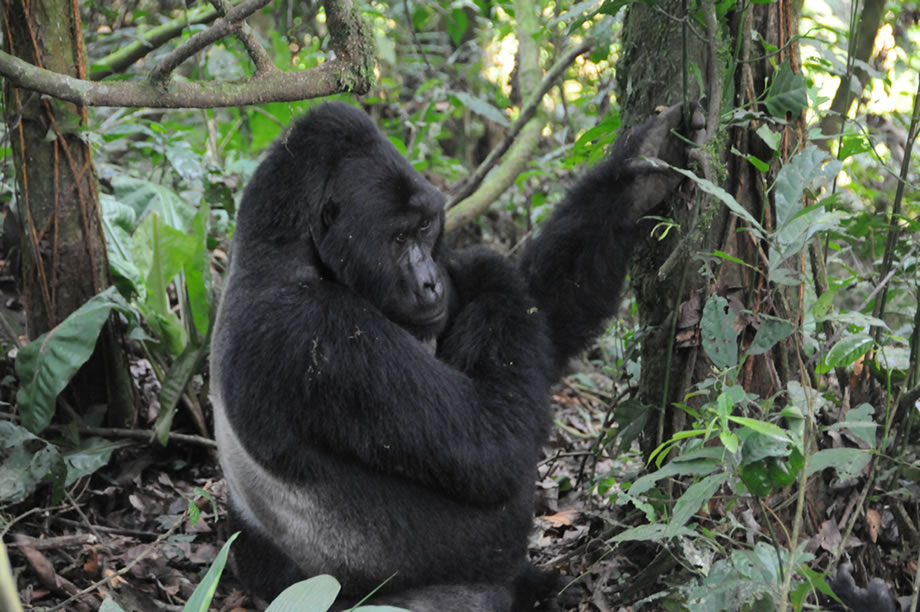 The cost of gorilla treks still remains area of debt and whether what is paid is worth it or not is what most travelers are left asking. However, in reality trekking mountain gorillas in Uganda, Rwanda or the Democratic Republic of the Congo (DRC) is worth the money, your time and the energies you invest on it. It is such a memorable experience that is offered nowhere else on planet except only in Bwindi Impenetrable National Park and Mgahinga Gorilla National Park in Southwestern Uganda, Volcanoes National Park in Northwestern Rwanda and the Virunga National Park in the DR Congo. A glimpse at a group of mountain gorillas in the wild is the most unforgettable experience anyone of gorilla safari in Africa shouldn't miss.
The cost of gorilla permits in Uganda
Trekking mountain gorillas in Uganda require every trekker on Uganda gorilla safari tour to possess a valid gorilla permit. To obtain a gorilla permit in Uganda, currently you need $600 for those of you who fall in the brackets of foreign non-residents, $500 for foreign residents and shs.250000 for East African citizens. These prices will run up to 30th June, 2020 and beginning 1st July, 2020-visitors on Uganda gorilla safari will need $700 to reserve a gorilla permit if you are a foreign non-resident, $600 for foreign residents and the East African citizens requires shs.250000. Given the high demand and the fact that this adventure is limited to only 8 visitors per gorilla family, you are advised to reserve your permit early to avoid last minute disappointments and you can do so 6 months or even a year prior setting off on actual trip.
Gorilla permits in Uganda can be booked through a recognized tour operator or an agent which for this case, you can get in touch with our reservation team and ease the process. Alternatively, you can book directly with Uganda Wildlife Authority (UWA). Uganda still ranks as the most affordable gorilla safari destination and for any need to strike your imaginations with these creatures, don't hesitate contacting us.
Gorilla permits in Rwanda
Visitors on Rwanda gorilla safari can obtain a gorilla permit at $1500 per person. This follows the Rwanda Development Board's decision to increase fees for gorilla trekking in Volcanoes National Park from the previous $750 to currently $1500 for all visitors wishing to visit Rwanda to trek mountain gorillas. You can book a gorilla permit in Rwanda through our reservation team or directly with the reservation team at Rwanda Development Board (RDB).
Gorilla permits in DRC
Each gorilla permit in the DR Congo costs $450 per person. This positions the DRC as the most pocket friendly gorilla safari destination in Africa. Gorilla treks in the DR Congo are conducted in the Virunga National Park which is set in the Eastern side of the country. Visitors on plan to visit DRC for gorilla trekking can secure their permits through our reservation team or Virunga park authorities.
Trekking mountain gorillas is tiresome and requires some physical wellness since it takes you through hiking via the dense rain forests and steep slopes. The length of the trek varies significantly depending on trekkers' speed of hiking, nature of the habitat and where the mountain gorillas are. However, it is worth the energy put as it rewards you with magical encounter with the world's massive creatures while in their natural habitat.
The time you spend with mountain gorillas
Trekking mountain gorillas in Uganda, Rwanda and the DRC is a lifetime experience. Once you come across a group of mountain gorillas, you have an hour of a face to face encounter with them, learn how they feed, copulate, socialize and take pictures as many as you can. To spend more time with these apes, you can opt for gorilla habituation experience-a unique tourism product that is offered only in Bwindi Impenetrable National Park. To take part in this extra-ordinary adventure, you require $1500 to book a permit which lets you spend the whole day following mountain gorillas and four hours of magical encounter.
In conclusion, gorilla trekking is worth the money. Visit Uganda, Rwanda and DRC to trek mountain gorillas and have lifetime experiences.