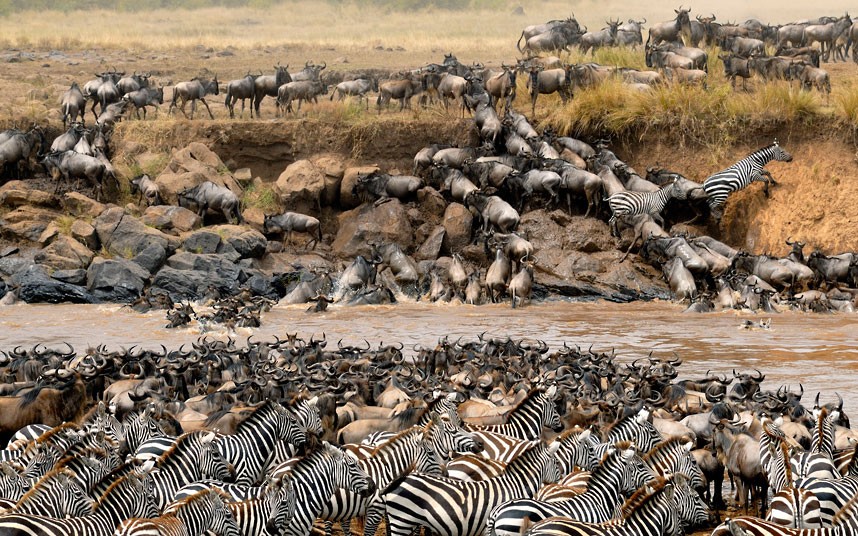 When it comes to safaris in Africa, there are very many countries that offer exceptional safari experiences which also vary significantly depending where you choose to go to. What is most essential is for us to consider your travel needs and we shall definitely make sure you meet them. In order for you to have the best of a memorable African safari experience, we have come up with a list of five best countries. Each of these countries offers visitors on African safari with unique wilderness experiences.
Tanzania
South Africa
Botswana
Uganda
Namibia
Tanzania is of no doubt one of the best countries you should consider a must to visit if you are to have absolute African safari experience. This magical country is surrounded Uganda, Kenya and Rwanda. Tanzania is popular for its scenic national parks and most essentially, the great wildebeest migration, the vast plains all offering a classic safari experience to visitors on safari in Africa. Over 16 national parks are available for visitors to explore and experience while on safari in Africa and they include among others Serengeti National Park which is famous for the great wildebeest migration and also a complete list of big five African; Ngorongoro Conservation Area which is known for its spectacular Ngorongoro crater that leaves most of travelers on African safari breathless, Gombe Stream National Park, Selous National Reserve, Lake Manyara National Park, Ruaha National Park, Mahale National Park and others.
Best described as a World within a Nation, South Africa is undoubtedly a premier safari destination in Africa. It features nearly all that you need to see right from the beautiful beaches, mountains, unique culture, winelands and not to forget its pristine wilderness areas.
An African safari in South Africa is best conducted in Kruger National Park which is a home to a complete list of the big five African game-African bush elephants, lions, buffaloes, leopards and rhinos. Kruger National Park sits in an area of over 19485sq.kms and it inhabits over 145 distinct species of mammals including giraffes, hippos, lions, leopards, buffaloes, rhinos, elephants, cheetahs, antelopes, 500 bird species and many more.
In case you wish to relax, still South Africa has you covered. A visit to Johannesburg and Cape Town offers the best relaxing environment especially its beautiful beaches.
Botswana
Botswana is credited for its wildlife conservation efforts which today position it as a premier safari destination in Africa. It hosts a huge concentration of elephants especially within Chobe National Park, Moremi Nature Reserve, Central Kalahari Game Reserve and Nxai National Park and not to forget exceptional cultural experiences.
Chobe National Park for instance is set suitably in the Northern side of Botswana and prides itself as a home to diverse wildlife species including the largest number of elephants in Africa. It occupies an area of about 1200sq.kms, covering an ecosystem ranging from the dry plains dry channels of fertile grasslands, dense woods, watery swamps. Chobe National Park is an exceptional game viewing destination, offering incredible sights at giraffes, antelopes, zebras and many more.
Best referred to as the Pearl of Africa, Uganda is of no doubt one of the magical countries where best safaris in Africa are conducted. Uganda boasts for her off-beaten natural beauty and diversity of iconic attraction which you may not find anywhere else on planet earth. Uganda's beauty ranges from magical mountains, Lakes, rolling hills, distinct cultures to pristine national park where huge concentration of wildlife species, birds are confined.
Compared to most African countries, Uganda hosts over 1080 species of birds including over 60 percent of all the bird species in Africa and 10 percent of the world's bird species. This makes it an exceptional birding safari destination. There are also over 365 different mammal species including over half of all the 1004 mountain gorillas which today remain in the world and only exist in Uganda, Rwanda and the Democratic Republic of the Congo (DRC). A safari to Uganda rewards travel endeavors with magical encounter with these humble apes while in their natural habitat. Unlike Rwanda, Uganda stand out as affordable gorilla safari destination. Visitors on safari in Africa in Uganda can obtain a gorilla permit at $600. Gorilla treks in Uganda are conducted only in Bwindi Impenetrable National Park and Mgahinga Gorilla National Park.
Other iconic sites/attractions that Uganda has to offer the world include the might source of the Nile at Jinja. A visit to the source of the Nile lets you take part in most of the adrenaline adventures including Kayaking, Jet boating, bungee jumping, white water rafting, boat cruise and others. Uganda is comprised of ten pristine national parks, each of which has something unique to offer the world and they include Kidepo Valley National Park, Bwindi Impenetrable National Park, Mgahinga Gorilla National Park, Murchison Falls National Park, Queen Elizabeth National Park, Kibale Forest National Park.
Namibia
Namibia is set in Southwestern side of Africa and compared to most states, it is the least populated nation in the world. Namibia largely features an extensive Namibia desert and Kalahari. It has about 12 pristine national parks all boasting of their diverse wildlife species, bird species and many more. An African safari in Namibia lets you explore and experience its distinct species of wildlife which thrive in scenic sites such as Etosha National Park a home to complete list of the big five African game, giraffes, cheetahs; Bwabwata National Park an ideal bird watching destination. You can sum up your stay in Namibia by experiencing the Namibia cultural desert life.