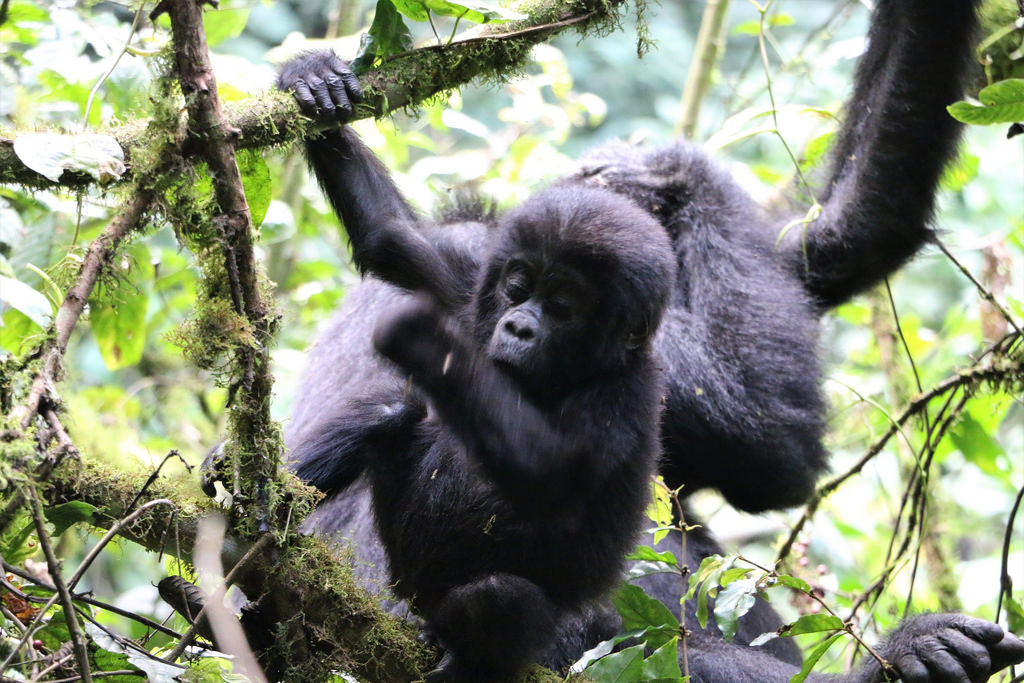 Bwindi Impenetrable National Park is located in the southern Western part of Uganda and it's also on the rim of the western rift valley. It has two hillsides which are permanently covered with mist and also sheltered by one of the known ancient and biologically varied with rainforests in Uganda dating back to more than 25000 years hence comprising of 400 varied different plant species.
This "impenetrable forest" too protects a predictable population of up to 400 mountain gorillas which is approximately half of the world's population and Bwindi currently has 12 groups which have been habituated and can be tracked by visitors any time of the year.
"Bwindi" as a word means "darkness" and therefore taking a hike here so shows or magnificent forest will so unveil the reason what the forest is too regarded as impenetrable since one requires to be realistically and physically fit to taking part in the gorilla trekking adventure cause it needs climbing of the steep terrain. Within Bwindi Impenetrable, they are 4 different areas where tracking of mountain gorillas can be seen and these include Buhoma, Ruhija, Rushaga and finally Nkuringo and these areas are specialized with different accommodation close to tracking area of the gorillas and also Bwindi Forest National Park has a lot of different various gorilla families in different locations therefore you can visit gorillas in Uganda, Rwanda and also in Congo.
Mountain gorilla trekking terms and conditions
For a gorilla safari, one has to be fairly fit, equipped (carry walking boots, sweaters, scurf, gloves, etc.) for the humid, muddy conditions of a rainforest hike.
Anyone with a cold, cough, flu or similar illness is not allowed to go for trekking as gorillas are susceptible to attract human infections.
The region's mid-December to February and June to September dry seasons are the best time to go gorilla trekking but one can still expect a tough day on foot: it's sometimes humid, wet and muddy with steep slopes and tangled vegetation. Nevertheless, the chances of finding a gorilla family are often around 95%.
Gorilla tracking is limited to a maximum of 8 people per particular gorilla family/group per day, starting 8am every day; visitors are allowed one hour of direct interaction with the gorillas and may last for 2-8 hours.
Warm layers of clothes because of cold evenings and also another cloth incase for bitter (wet) weather since there are different or various altitude of both cold and wet through the day.   Though during day the sun is always strong or favorable even when it's a cloudy day. This is a call for one to carry and wear sunscreen shades as well as a hat in case one is fine with it.
Carrying a water proof jacket for safe guarding the photographing cameras plus other equipments or items for the hiking process, water and sucks are too accepted plus packed lunch as the activity can last for an entire day.
Health tips:
Since Mountain Gorillas are closely related to man, they are susceptible to diseases carried by humans, like cough, flu, etc.
No smoking, eating of food or drinking of beverages is allowed in the presence of the Mountain Gorillas.
In addition to the famous impressive mountain gorillas, it's said that there are about 360 bird species, 23 endemics and more than 200 butterfly species, 324 tree species, ten of which are found nowhere else in Uganda, making it magical tourist destination to explore.
Biologically Bwindi Forest is a region of itself, offering shelter to more 120 mammals and among these are various primate different species such as baboons, monkeys and mammals such as forest elephants, as well as antelopes. There are also over 350 bird species that are found within the forest and among these are 23 Albertine Rift endemics.
Nature walks too in Bwindi national park can be done on the trail to Munyangwa River, and also undertake birding tours since this Uganda's ancient forest shows that it's the perfect habitat for birds.
Bwindi national park could be especially cold both in the morning and evening since the annual temperatures always range from 70C to 200 C with June and July being the coldest months of the year and the two wet seasons with short rains in the months of March and May and heavy rainfall experienced in September to November though its known that in Bwindi rain often falls for long hours of soft drizzle instead of the short tropical deluge.
The only other national park in Uganda where gorilla trekking takes place is; Mgahinga National Park that is located in the South western Uganda on the boarder of Congo and Rwanda, and its known to be the smallest forest park in Uganda and her main attraction too is gorillas and the impressive golden monkeys though it has got other activities as well, which include; birding, hiking, nature walks with cultural encounters with the local Batwa.