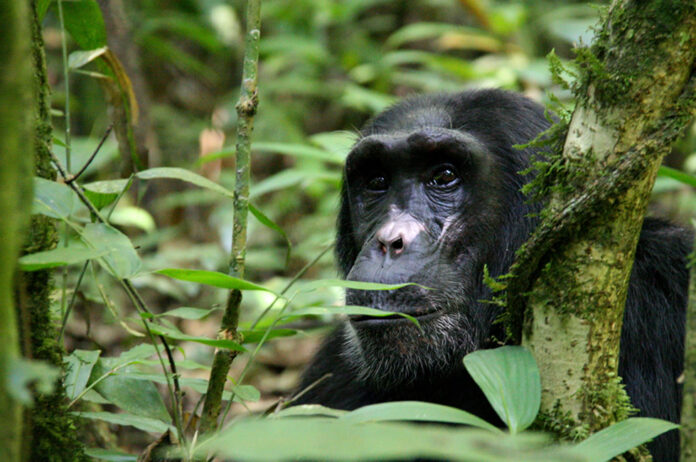 Chimpanzee trekking guide for women on safaris in Uganda: Chimpanzee trekking in Uganda offers a deep insight into chimpanzees whose DNA is 98.7% similar to that of humans. Uganda is an open chimpanzee trekking destination attracting not only male tourists but also females to enjoy a magical encounter with chimpanzees in their natural environment. Chimpanzees are generally fantastic creatures to interact with and observing them during the 1 hour amazingly rewards you with lifetime experience.
Where chimpanzee trekking in Uganda is conducted?
Uganda, a magical primate destination in East Africa is a host to over 5600 chimpanzees and a good number of which have been habituated. The best sites not to miss visiting for great chimp encounters that are often included in Uganda safaris include;
Kibale Forest National Park
Kyambura Gorge
Kalinzu Forest
Budongo Forest
Toro-Semuliki Wildlife Reserve
Kibale National Park
Kibale Forest National Park, the Primate Capital of the World is noted for its life changing chimpanzee tracking experiences. Kibale lies in Western Uganda, expanding up to 795sq.kms and protecting 13 species of primates and they include 1500 chimpanzees. The park shelters many chimp communities and but the frequently visited communities are in Kanyanchu Area. In Kibale, 2 daily chimp trekking sessions are available-the morning and afternoon treks which all commence from Kanyanchu Visitor/Tourist Centre.
Chimpanzee permits for Kibale Forest can be booked by all tourists on safaris in Uganda at USD200 per trek, USD150 and UGX150,000 for East African Nationals. Women on safaris in Uganda and they are interested in chimp trekking can reserve their Kibale chimp permits through a reliable tour operator or directly with Uganda Wildlife Authority reservation team.
Trekking chimps at Kibale can be astonishing as tourists are guaranteed of incredible glimpses of not only chimpanzees but also other primates, birds, colorful butterflies. Kibale National Park shelters interesting apes like red tailed monkeys, olive baboons, black and white colobus monkeys, vervet monkeys, pottos, bush babies.
Kalinzu Forest Reserve
Set in Western Uganda, Kalinzu shelters 300 of the Uganda's 5600 chimpanzees. It is a splendid natural forest lying just outside Queen Elizabeth National Park, a notable home to the tree climbing lions. The reserve has 70 already habituated chimp troops and it also protects an estimate of about 410 bird species, most of which can easily be spotted while on search for chimps.
Budongo Forest
Budongo Forest is another favorite destination women/female tourists on safaris in Uganda shouldn't miss visiting for chimpanzee tracking. The forest reserve is a home to all 800 of the 5600 chimpanzees that live in Uganda with Kaniyo-Pabidi sector being the most visited for chimpanzee tracking. Budongo Forest Reserve which spans 825sq.kms is about 5 hours' drive off Kampala and has 100 already habituated chimp troops. At Budongo Forest, briefing begins at Budongo Eco Lodge Area-early morning or afternoon trek sessions. Permits can be obtained by all female tourists on Budongo chimp trek at USD85 per person per day.
Kyambura Gorge
Another remarkable spot to consider a must visit for chimpanzee trekking by women on safaris in Uganda is Kyambura Gorge. The Kyambura Gorge is part of the 1978sq.kms expansive Queen Elizabeth National Park (QENP). The famed Valley of the Apes' gorge is 16kms long 100m deep. Other than spotting chimps, Kyambura Gorge chimp treks offer possibility of viewing other interesting primates including the red tailed monkeys, vervet monkeys, colobus monkeys, and range of birdlife like blue headed bee-eaters, finfoot birds, falcons etc. Chimp tracking permits for Kyambura Gorge can be obtained by women on safaris in Uganda at USD50 applying to all foreign nonresidents & foreign resides and 30,000 East African Nationals.
Toro-Semuliki Wildlife Reserve
Toro-Semuliki Wildlife Reserve-lying at far western side of Uganda at border with D.R. Congo. The reserve hosts 260 chimpanzees and boasts of 3 already habituated chimpanzee troops. Semuliki Reserve is an affordable chimpanzee trekking destination-permits are available for booking by foreign nonresidents & foreign residents at USD30, East African Nationals UGX20,000.
Note, chimpanzees in Uganda also thrive in other parts of the country. They include Ngamba Island Chimpanzee Sanctuary, Uganda Wildlife Education Centre, Maramagambo Forest.
What is Uganda chimpanzee tracking like?
Trekking chimpanzees in any of Uganda's destinations always begins early for morning sessions or even afternoon sessions. In the morning, you are expect to assemble at briefing point as early as 7:00am and start actual tracking at 8:00am and often lasts 2-4 hours depending on your speed of hiking. During briefing sessions is when all groups of visitors are assigned to experienced guides to lead them through chimpanzee trekking adventure.
Is Uganda safe for women to go for chimpanzee trekking?
Uganda is very secure for chimpanzee trekking whether you are traveling as female or male tourist. All chimpanzee trekking spots are open for exploration regardless of the gender.
Are there rules and regulations to follow during chimpanzee trekking?
Yes, before you make any step into the forest to look for a chimpanzee troop/community, you will be taken through briefing. It is during briefing time that trekkers get to learn more about rules and regulations to observe including among many maintaining a good distance of up to 10m from chimpanzees, covering the nose when sneezing or mouth when coughing, keeping voices low, bury all human wastes as guided by your park guide, only eligible persons of 15 years can go trek chimpanzees, usage of flashlight cameras is highlight prohibited, no smoking, eating or drinking before chimps.
What to pack
Pack only essentials while on safaris in Uganda to see chimpanzees in any part of the country. These include the insect repellents, sun glasses, waterproof hiking boots/shoes, camera without flashlight, valid passport, chimp permit, first aid kit, long sleeved shirt, long trousers, rain jacket, sweaters, valid visas.
Best time to visit
Uganda can be visited at anytime for chimpanzee trekking-but, the dry season is without doubt the best to travel for your chimp encounters. The 2 exceptional dry seasons to mark on your calendar start from June, July, August, September and/December, January, February. These drier months experience the most favorable weather conditions compared to wetter months from March to May and October to November.