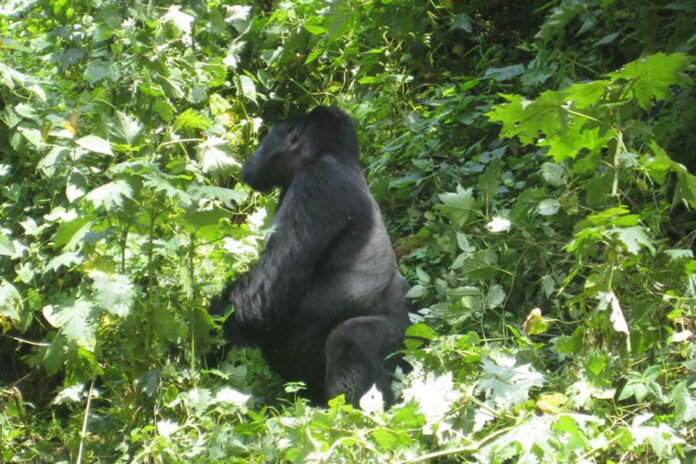 Mountain Gorillas in Uganda: the chief tourist activity in Uganda. The gentle giants (Mountain Gorillas) are found in south western Uganda inhabited in Bwindi impenetrable National Park and Mgahinga Gorilla National Park. Its of no doubt that Gorilla tourism earn the country a lot of foreign exchange. The country receives many visitors interested in gorilla trekking safaris because of the following reasons:
Uganda hosts half of the world's mountain gorillas – Mgahinga Gorilla National Park and Bwindi Impenetrable National Park keeps over 539 however, the world is estimated to host 1000 individuals. For that case, Uganda has become popular for gorilla trekking at the current cost of US$700. Having many Mountain Gorillas gives assurance to the tourists that meeting them in Bwindi and Mgahinga is a must.
You can choose the sector to trek gorillas from – Basing on your level of fitness, you can choose the terrain you can manage to hike. Buhoma and Rushaga have easy terrain to hike but Ruhija and Nkuringo have tough terrain to hike however, all the sectors receive tourists ready to trek gorillas.
Possibility of encountering other tourist attraction during the course of gorilla trekking. While in the forest looking for the gentle giants, you can face other attractions like primates, forest lions, forest elephants, insects, tree species, water bodies, hills and valleys and birds among others.
Prevailing peace in Uganda also attracts a large number of tourists – Since 1986, Uganda has been peaceful and thus tourists move from one point to another without experiencing any harm.
Easy access to the gorilla parks – the roads is clear and you need 7-9hrs drive from Kampala to Bwindi Impenetrable National Park or Mgahinga Gorilla National Park. You can reach there by road from Kampala – Masaka- Mabara – Kabale and then to Bwindi or to Kisoro and then to Mgahinga. You can fly from Entebbe to Kihihi or Kisoro to reach to the gorilla park.
Two gorilla parks – Uganda is gifted with two gorilla parks namely; Bwindi Impenetrable National Park and Mgahinga Gorilla National Park. Each Park offers different experience and each in Unique location. If you visit Bwindi, you will experience a deep tropical forest life while Mgahinga offers uplands life.
The convenience of getting gorilla permits – you can book and pay for your gorilla permits online or use a professional tour operator on ground to book them on your behalf however, advance booking of gorilla permits is highly recommended because gorilla permits are on high demand throughout the year.
You directly support local community and sav habitat – Part of revenue from gorilla tourism is reserved to upgrade the well fair of the people in the nearby community. People gain in terms of better services like clean water, education, health care among others. The aim of sharing benefits from gorilla tourism opens the eyes of residents to participate in the protection of gorillas and conservation of their natural habitat.
Gorilla habituation – For tourists who want to stay with gorillas for more time, gorilla habituation is the option. Gorilla habituation allows tourists see gorillas for 4hrs compared to 1hr during normal tracking. Its only in Rushaga sector of Bwindi Impenetrable National Park where Gorilla habituation takes place.
There are five gorilla trekking centres in Uganda namely Nkuringo, Buhoma, Rushaga and another one in Mgahinga National Park.  The four sectors in BINP and one in MGNP gives confidence and assurances to the tourists to meet gorillas.
In Conclusion, the above-mentioned reasons justify why you should go gorilla trekking in Uganda however, the country has many other attractions like Chimpanzee, elephants, Rhinos, birds, reptiles, Lakes and Rivers among others.