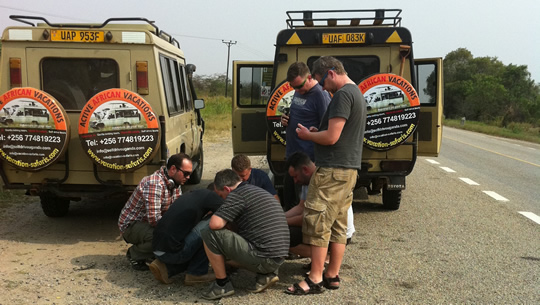 When it comes to solo traveling or self-drive in East Africa, the first thing that should come at the back of every solo traveler is adventure experiences. To have a well-planned solo/self-drive trip, it requires adequate time. Planning a self-drive trip in East Africa is very challenging especially for first time solo travelers. It comes with lots of intimidation the fact that you plan to travel alone and more so, it involves discovering new destinations. When planning a self-drive tour to anyone East African state, the following tips should be put into consideration.
Be social
Visiting a new destination on self-drive/solo trip can be challenging as it involves interacting with new communities. While in a new destination, avoid being shy once you come across someone. By interacting with local residents, you get to learn a lot and most importantly, you can get guidance for instance if you get lost and you need to be directed, find where good hotels or restaurants are. Remarkably, East African citizens are very social, warm welcoming, hospitable and ease to make friends with.
Safety tips
Your safety is very essential when it comes to self-drive trips in East Africa. Despite the fact that most East African states like Uganda, Rwanda, Kenya and Tanzania enjoy some relative peace and stability, traveling at night or dark is never safe just like any other destination. Try as much as you can not to travel or walk at night and dark corners alone. Make sure that all your valuables are safe and where possible keep them back in the hotel or place of residence and in case you plan to leave them in the car, make sure the car doors and windows are closed. Ensure that you reach your destination early or check in at the lodge or hotel early.
Packing list for self-drive trip in East Africa
A complete self-drive trip in East Africa requires proper packing and essential items should be considered first. Your self-drive trip packing list should therefore include GPS, google maps, good safari shoes and in case you plan to go for gorilla trekking in Uganda, Rwanda consider waterproof hiking boots, day pack, gardening gloves, long sleeved shirts, insect repellents, sun glasses, first aid kit, camera without flashlight, bottled drinking water, energy giving snacks and many more.
East African tourist visa
Visas are essential travel tools every traveler should have to have access into a destination of their choice. For self-drive travelers with plan to visit at least two East African states, the best is to have a valid East African tourist visa. Obtaining one lets you pay a visit to at least two East African Community member states especially Uganda, Rwanda and Kenya.
Money tips
Most East African states are cash-based economies. To ease transactions in the local markets, you need to exchange your currency into local currency of the respective country you plan to spend your holiday while on self-drive tour. In Uganda, you require a Uganda shilling, Kenya-uses Kenya shilling and in Rwanda you can use Rwandan franc and in Tanzania, the Tanzania shilling is commonly used. However, the US dollar is what is widely used especially when costing your safari. Other currencies can also be used and can be exchanged into local currency and they include among others pounds, euro, sterling.
Whether you are a new or repeat visitor, make sure that you have adequate cash. Traveling in a new destination can be challenging especially when you run out of case. Makes sure you have something reserved at least $100 to cover emergencies.
Know where to eat from
East African states have several places for solo travelers to eat or have a drink. However, try as much as you can to avoid road side food-be mindful of the hygiene and your health. There are many classic hotel facilities and restaurants to consider for you to have breakfast, lunch and dinner from in Uganda, Rwanda, Kenya or Tanzania.
Don't drink and drive
Self-drive tours in East Africa is fun but requires some keenness. Never drink and drive. Take what your brain can contain and at the end of it you remain stable for you to get back to the lodge, hotel or place of residence safely.
Tipping
Tipping on self-drive tour in East Africa is one essential thing any solo traveler can do. It is not a must-do thing but one way to say thank you for the exceptional service provided to you.