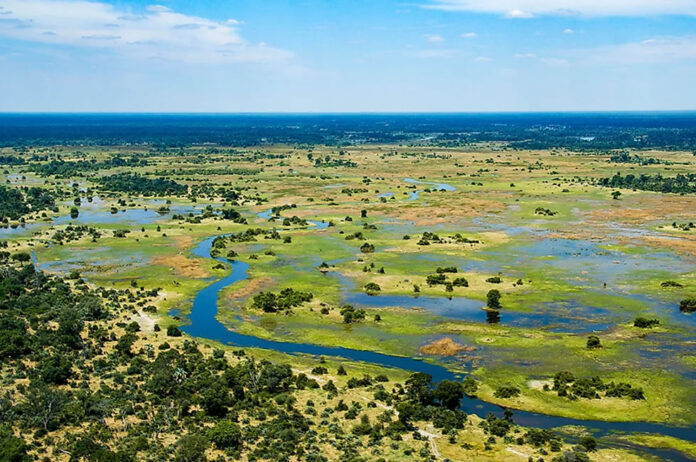 A delta is a land form located in the zone where a river flows into the ocean or any other water water mass, such as a lake or a reservoir. This particular formation is created by the movement of the sediments that come down the river in opposition to the stillness of another water mass in which the river gets into.
The Okavango Delta is located in the center of the Kalahari Desert and is the habitat for many animal and vegetable species and also for a variety of fish and birds. Nowadays the water does not reach the sea, being this zone a big swamp that is placed in a slightly lower level than the surroundings.

This ecosystem is a complicated one, the water move during the year with the seasons and the endemic species manage to survive in this changing channels, lagoons, floodplains, islands and mainland areas.
Visiting Okavango Delta
There are many travel packages meant to offer a tour in this natural treasure landscape, we can even arrange a tailor-made trip that fulfils  all our expectations. The accommodation in Okavango Delta is able to be in lodges or camping zones.
This is a place suitable for trekking, we are able to enjoy the peacefulness of this natural spot during a hike. Among the most common trails we find the Kanana Mokoro Trail, starting from Maun.
From the Okavango Delta there tours that visit the other main attractions in Botswana, namely the Victoria Falls, Chobe National Park and the Kalahari Desert. The contact with nature is assured in this rather different spots.
For those who want to live intense experiences there are itineraries for backpackers, a 14 or 15 night adventure can be easily arranged. All the above mention main spots are included in this route and also a visit to some beaches in Vilanculos, Mozambique during the journey.
Many other possibilities are available to choose, Botswana has a lot of places to visit with a richness in natural beauty. It is also possible to combine a safari and a week stay in a hotel in any of the main cities, granting a 2 week trip.
People who like photographing will find the Okavango Delta one of the most suitable places in the Earth to capture wildlife from close and will definitely go home with many pictures to remember this adventure.