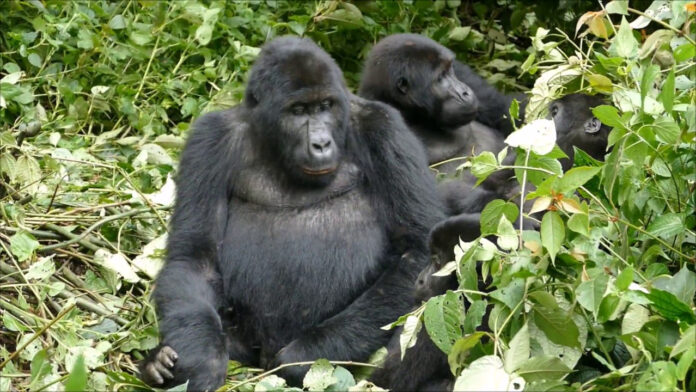 Despite mountain gorilla trekking in the Virunga National Park, Democratic Republic of Congo is also popularly known for Eastern Lowland gorillas in Kahuzi Biega National Park. If you are looking to a great safari in Africa, this is the place to be!
Its incredible setting deep down to the dense jungles of this park to explore countless magnificent and rare characteristics and daily behaviors of these spectacular creatures. Eastern Lowland gorillas are star attractions in Kahuzi Biega National Park which breaks the myth that the DRC's tourism is entirely dependent on Virunga's mountain gorillas and yet Kahuzi is another hidden treasure.
The park covers an area of 6000 square kilometers making it one of the biggest protected areas in DRC. It is found in Eastern side of the country just around Bukavu town. It derived its name from two incredible distinct volcanoes that dominate its high altitude sector; Mount Kahuzi (3308 meters) and Mount Biega (2790 meters).
The park is credited for its largest gorilla species in the world which has positioned it to be the leading attraction. Around the world, there are about 5000 Eastern Lowland gorillas. They are a sub species of the Eastern gorillas and they are also known as Grauer's gorillas. Kahuzi Biega National Park was therefore gazetted to ensure conservation of these spectacular primates.
Where to see Eastern Lowland:
Currently, there are only 2 habituated gorilla groups (Chimanuka gorilla family and Mugaruka gorilla families) that have been set for gorilla tracking while two more are still under going habituation process. Like any gorilla experience, Eastern Lowland gorilla tracking also takes one hour for visitors to have a face to face interaction with these unique Apes in the wild and equally eight visitors are allowed to track a gorilla group.
How to get there:
The Kahuzi Biega National Park is located 30 kilometers from Bukavu town which is only one and half hours' drive. You can get into the park by road and air. Land in Kavumu Airport and Miti Airport and then follow the route straight until you reach the visitor. While you are coming from Rwanda, you can spend about 6-7 hours from Kigali town to Cyangugu.
The lodges:
Some of the notable lodges around Kahuzi Biega National Park include Coco Lodge, L'Orchids safari club, Airport Breeze Motel and Exodus Bukavu budget, Kivu View Hotel, Gloria Motel and Carrefour Hotel.
Gorilla permits:
Like any gorilla experience, tracking the Eastern Lowland gorillas also requires visitors to have permits and this costs you $400 per permit. There is also a Congo tourist visa that you can obtain at affordable price. For reservations visit the web site: Kahuzi Biega and make an online booking for gorilla permits and you an also check out for the tariffs. You can book for the permits through info@kahuzi-biega.org or at the Tschivanga base camp. Both areas are ever open from 8 am to 4 pm.
Best time to track gorillas:
There are two season that gorilla tracking can be done in Kahuzi although it can be visited through out the year. The low season (wet season) begins from March to May and October to November and this comes with discounted gorilla permits and reduced costs on lodging facilities. Tracking gorillas during the rainy season is a bit hard given the fact that the terrain can be muddy. The two dry seasons to track gorillas fall between the months of January and February, and from June to September.
In conclusion, Eastern Lowland gorillas are one of the most impressive wild creatures on earth and tracking them is undoubtedly the most remarkable experience that comes once in a life time. Visitors to DRC can now combine their safaris to Virunga National Park for mountain gorilla trekking with that of Kahuzi Biega National Park to enjoy the unique eastern lowland gorillas in the wild.