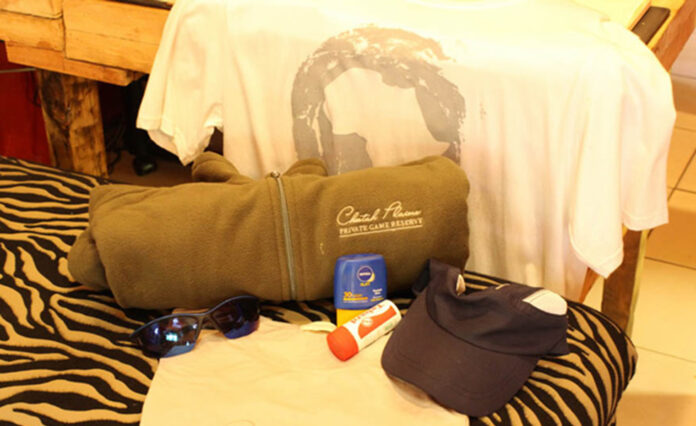 We are often asked by our guests, what do we need to bring on safari? Although this question is simple enough to answer with the basics, a fair deal of the items do come down to personal preference in terms of form, or functionality.
Some of the basic items we would always recommend include suntan lotion, a good hat, and sunglasses, walking shoes and a light jacket for chilly evenings! Remember that we have some incredible weather with temperatures that can climb into the 40ºC range in summers, and drop down to about 12 degrees in winter.
This is a once-in-a-lifetime safari, so some type of easily accessible camera is highly recommended, whether it be a cell phone, point and shoot or your SLR – you need to 'take that shot'! Always ensure that your batteries are charged and that you have spare memory cards for your camera. Once you are checked in and settled at the lodge, you will have plenty time to ensure your camera kit is ready for the morning and afternoon safaris.
If you are flying in to the lodge, there are airline baggage restrictions. It is recommended to pack light using a soft bag, pack a backpack with your valuable items such as camera, laptop, money, passport, binoculars, mobile phone and medicine which can be carried on as hand luggage.
Very bright colours, as well as white, stand out in the bush, and it is preferred that toned down colours such as beige, brown, olive and khaki are worn. This is especially important if you are planning to do a bush walk!
Items such as a sarong, buff, zip off shorts and quick drying clothes are versatile and can serve many purposes; they are also light and easy to pack.
A couple of small plastic bags are also a great addition to your luggage, as you can pack dirty clothes or muddy shoes into them without compromising the rest of your luggage.
These are just a few of the items that we would recommend, but also try to remember to leave space in your suitcase for souvenirs and mementos of your safari trip to Africa.