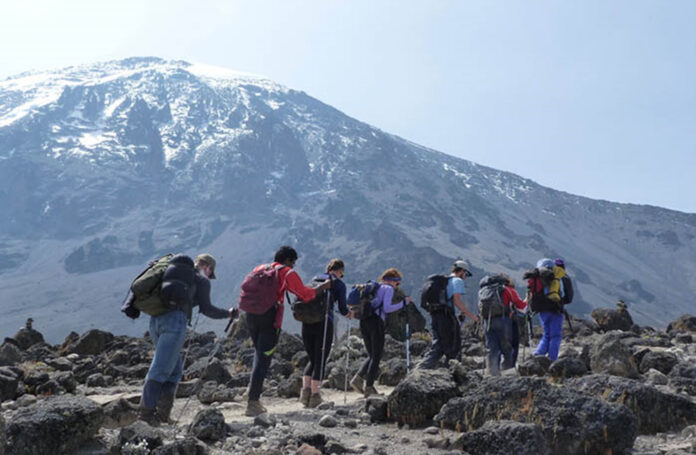 There are plenty of wrong ways to climb Kilimanjaro – wrong shoes, wrong backpack or wearing a full evening dress, perhaps. But the right way to climb it will depend on how fit you are, what your preferences are and how you like your challenges.
So Experience Africa poses four important questions that will help you to decide which of the four most common routes to take.
Do you want the best views ever?
Do you want a crowd or time to yourself?
Do you want time to acclimatise or do you want to climb like you're being chased by lions?
How much do you want to spend?
Let's take a look at the routes and you'll be clearer about which route is best for you.
Marangu Route
The Marangu Route is an old favourite. It's the most well-established route and used to be the most popular because the slopes are more gentle and easier to climb. It's also called the Coca-Cola route because if you can drink a can of cola then you can climb this route. Or because it makes you gassy. We're not sure.
However, in the recent years Marangu Route has been kicked into second place by the more popular Machame Route – more of this in a minute!
Marangu Route advantages:
It's the easiest – its slopes are the gentlest of all the routes so it's great for a beginner or if you're a little out of shape.
It's the cheapest and fastest. It'll take you five or six days to the summit.
It is the only route with hut accommodation in a dormitory style, so you won't need camping equipment.
It's a less busy route because there are a limited number of beds in the huts, so only a certain number of climbers are allowed per day.
Marangu Route disadvantages:
The climb is gentle but it's rapid, which means acclimatisation could be a problem. We recommend an extra day to make sure you give yourself a good chance of making it to the top. "Pole, pole" (slowly, slowly) is Kilimanjaro's motto, and you'll need to take it slow. An extra day will cost a little more, which is not great for those on a budget.
Because it's a quick route, with less time for acclimatisation, the success rate of making to the summit is lower than on the longer routes.
The route is there and back, which means the scenery, although as magnificent as you'd expect, will be the same on the way back as on the ascent.
Get more information about Marangu Route 5 Days and Marangu Route 6 Days.
Machame Route
Machame Route is the favourite route among climbers and it's also called the Whisky Route because it's a tough climb (much tougher than the Coca Cola route above!). The classic climb to the top is six days, although you can add an extra day for better acclimatisation. Together with the Lemosho Route, it's the most picturesque route on Kilimanjaro. The hike follows steeper paths and is more of an adventure, especially because of the famous Breakfast Wall (Barranco Wall), which you'll tackle immediately after breakfast – hence the name. On the fifth day the route merges with Lemosho Route to Uhuru Peak.
Machame Route advantages:
The scenery is beautiful. So, really, totally, gorgeously beautiful. Did we say that it's beautiful?
The success rate of getting to the summit is high because it's easier to acclimatise. We follow the climbers' philosophy of "hike high, sleep low".
It's a camping route, so if you love to sleep under canvas and spend nights round the campfire under a skyful of stars, then this route is for you.
Machame Route disadvantages:
Because it's a beautiful route, and it's for campers, this route has grown in popularity hugely, so it can get very busy especially in high season. But if you're a sociable type, perhaps this isn't a disadvantage! And if you're competitive then there's nothing like beating that other group, dang them!
Get more information about the Machame Route 6 Days and Machame Route 7 Days.
Lemosho Route
Lemosho Route is one of the quieter routes although we've noticed it's become more popular recently. This route has fantastic views. You'll take seven or eight days to reach the summit and on Day Five it'll join with the more popular Machame Route at Shira Plateau and from there share the same path to the summit.
Lemosho Route advantages:
Being the longest route it's best for acclimatisation.
It's becoming a more popular route so book now before it gets too popular!
It's a really beautiful route.
Lemosho Route disadvantages:
It's a longer route so it's a little more pricey.
Get more information about Lemosho Route 7 Days and Lemosho Route 8 Days.
Rongai Route
Rongai Route is the only route that approaches Kilimanjaro from the north, along the border between Kenya and Tanzania. It's the wildest and quietest route. The north is also drier and less wooded, which makes Rongai Route the ideal route for the rainy season.
Rongai Route advantages:
Its beauty lies in its wilderness and fantastic views.
Less rain means better conditions for hiking.
Shh! It's quiet! If you want a route all to yourself, then choose the Rongai Route.
Rongai Route disadvantages:
The route does not follow the principles of climbing high and sleeping low so you'll need an extra day for acclimatisation. This adds a little more to the cost.
Get more information about Rongai Route 6 Days and Rongai Route 7 Days.
The Northern Circuit
The Northern Circuit route is the newest and longest route – and did we mention it's also truly beautiful? You'll take nine days to reach the summit and, boy, you'll remember every single one of those nine days!
Northern Circuit Advantages
At nine days it's the longest route, so it's the best route for acclimatisation, so you've the best chance of reaching the top.
This route takes you almost 360 degrees around the mountain, so you've a new scenic beauty every day.
Because it's the newest route to open, the paths are definitely less travelled so you'll be one of the first to experience it.
Northern Circuit Disadvantages
It's a long route so, yes, it costs a little more and it's not so good if you're watching your wallet.
The Umbwe Route
The Umbwe Route is the most challenging route up Kilimanjaro. It's the steepest route with little opportunity for acclimatisation and so it's only for the experienced high-altitude climber. It's a fantastic, energising, life-changing climb amid knife-edge ridges, sheer-drop gorges and the most amazing panoramas. But it's only suitable for you tough, experienced adventure freaks out there. We don't recommend it for normal, sane people.
Umbwe Route Advantages
If you're an experienced high altitude climber, then you'll have the mountain to yourself!
Although it's not technical, it's steep and arduous so it's a challenge with a capital C.
Beautiful, beautiful scenery.
It's quick – there and back in six days.
Umbwe Route Disadvantages
It's a quick climb so you've less chance of properly acclimatising unless you're experienced at high altitude.
We don't offer a group excursion on this route because it's so difficult, but we do offer small, bespoke climbs.
Still not sure about the right route for you? Having trouble deciding between them? Our team is always happy to answer your questions.
Travelling alone and want to join a group? Ask us about our group departures.