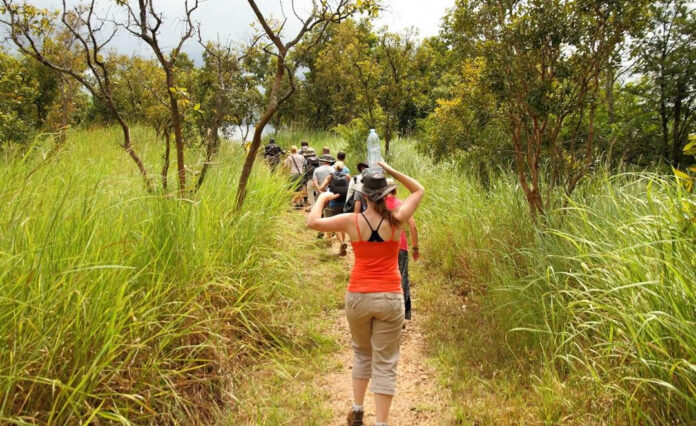 Nature and forest walks in Uganda: Uganda-The Pearl of Africa offers more than mountain gorilla trekking and chimpanzee tracking or game driving experiences! On an Uganda safari, nature and forest walks provide a perfect alternative to explore the Pearl of Africa uniquely. No better way to immerse and surround yourself with Uganda's off-beaten beauty than embarking on a guided nature and forest walk.
Where to go for nature and forest walks in Uganda
Nature and forest walks-Bwindi National Park
Bwindi Impenetrable National Park (BINP) is most famous for gorilla trekking tours but there is a lot more to experience besides mountain gorilla adventures. If you are looking for the best nature and forest walk experiences then Bwindi has you covered. The 331sq.km impenetrable forest park boasts of exceptional nature or forest trails each introducing nature-loving visitors to its distinct habitats.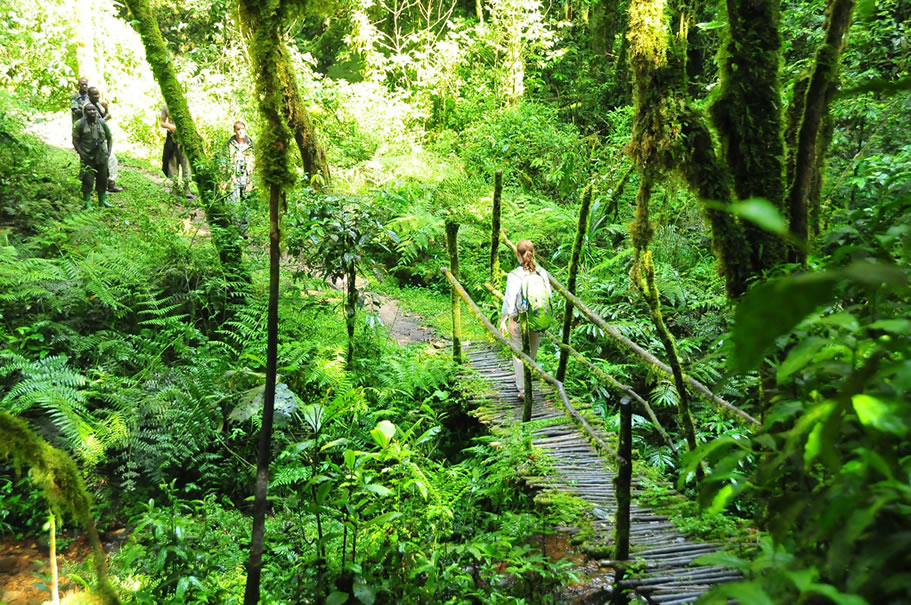 The best forest trails worth hitting for guided nature walks in Bwindi National Park include Rushura Hill Walk which comes with exceptional views of Lake George and Lake Edward, Habinyanja or Railegh trail 4 to 6 hours trail, Muyanga waterfall trail, Ivi Riverwalk 14kms long, Muzubijiro loop, Buhoma-Nkuringo trail, Buninga Forest trails.
Mount Rwenzori hikes
Rwenzori Mountains National Park offers more than the thrilling treks to Margherita Peaks on 5109m. A visit to this park lets you enjoy the best of guided nature and forest walk at the base of the Rwenzori Mountain ranges. The park has incredible trails each leading to its unique vegetation zones or peaks, habitats with diverse wildlife.
Murchison Falls National Park nature & forest walks
Murchison Falls National Park is well-known for guided game viewing but offers the best nature and forest walks. Lying on the North-west of Uganda, Murchison Falls N/Park is 3840sq.km and offers distinct guided nature and forest walks.
Murchison Falls National Park's best nature and forest walking trails worth exploring on Uganda safari here include the Kaniyo-Padio Forest trails, Rabongo Forest trails, 45 minutes hike trail to the top of Murchison Falls. 2-4 hours walk along the Nile Delta on guided swamp walk with a chance to spot a shoebill stork; Sir Samuel and Lady Florence Baker trail noted to be one of the best 20 hiking trails in the world according to National Geographic list. Sir Samuel and Lady Florence Baker trail is a long trail extending to cover the Kabwonyo Wildlife Reserve in the Southern Murchison Falls NP and part of Lake Albert.
Kibale Forest Walks/Nature walks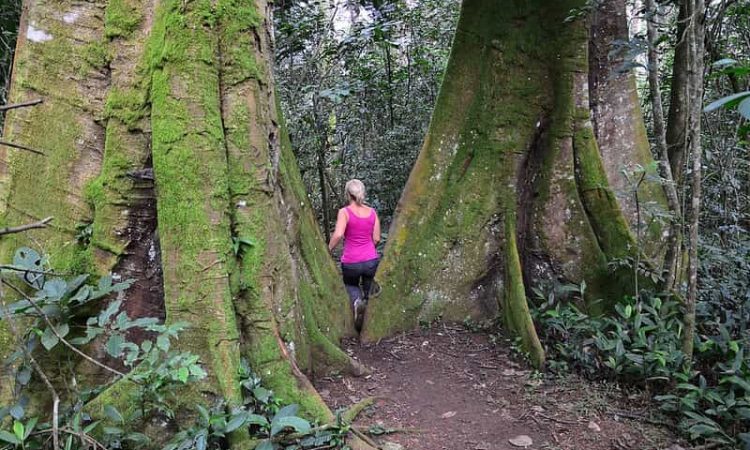 Located in Western Uganda, Kibale Forest National Park offers not only the best chimpanzee trekking experiences but also forest walks. Kibale expands up to 795sq.km and features excellent nature walk trails such as Nocturnal forest walk 12kms, Bigodi swamp walks, Amabere cave walk, Crater Lake walk, etc. Nature and forest walks in Kibale are remarkable as you immerse yourself into the park's lush rain-forest with 13 primate species including 1500 chimps, red colobus monkeys, vervet monkeys, playful olive baboons, l'hoest monkeys, black and white colobus monkeys; 360 bird species, reptiles, amphibians, colorful butterflies, plant species.
Mgahinga National Park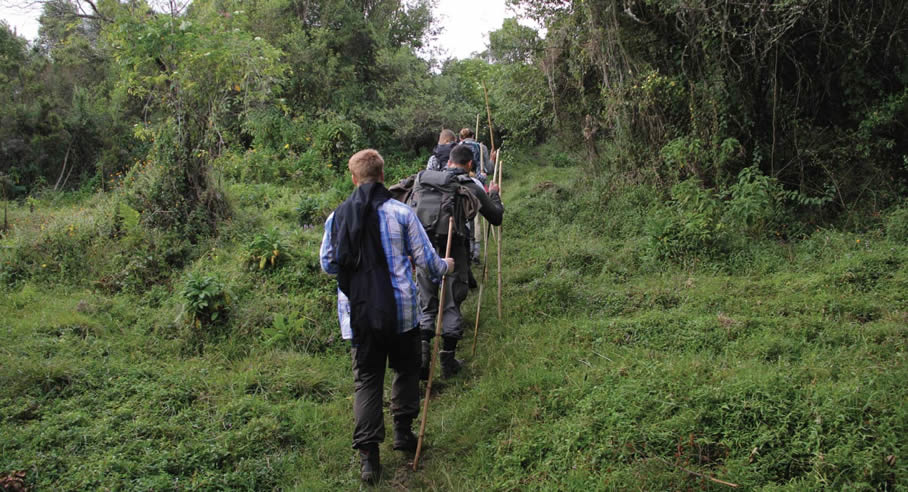 Mgahinga Gorilla National Park, home to both mountain gorillas and golden monkeys is noted for its rewarding nature walk experiences. The compact 33.7sq.km gorilla park is credited for its best hiking/nature walk trails. The park's distinct nature trails can take short time or half-day and they are concentrate along the forest zone. For birders, the best trail to hit on is the Sabinyo Gorge trail which ascends via the heath at Ntebeko to the bamboo forest then winds around the small stream. The trail offers incredible bird sightings of Rwenzori turacos, olive woodpecker, Kivu ground thrush, Lagden's bush shrike, African hill babbler, western green tinkerbird.
Rugezi swamp trail perfect to sight variety of forest animal species including elephants giant forest hog; Garama cave walk which is 4kms off from Ntebeko, Batwa trail, walk around the visitor center, border trail which takes you through the scenic montane forest.
Queen Elizabeth National Park nature & forest walks
Queen Elizabeth National Park which is a home of unique tree-climbing lions expands 1978sq.km and features the best forest walk trails. The park's amazing trails to expect to hit are concentrated in Maramagambo Forest, Kyambura Gorge, Mweya Peninsular, Kalinzu Forest-with 4 hiking trails; Kasyoha-Kitoma Forest trail and others.
Mabira Forest walks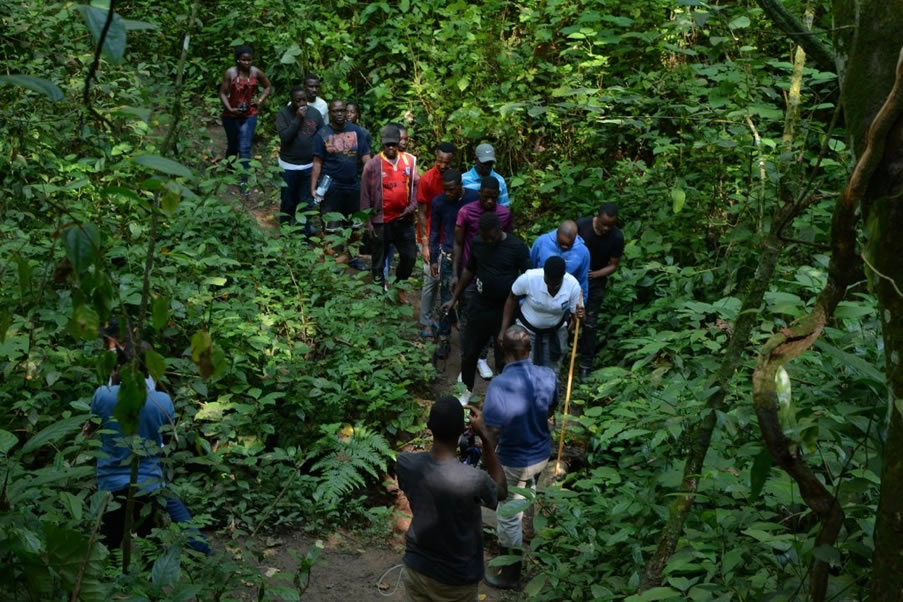 Located on Kampala-Jinja Highway, Mabira Forest is one of the very few remaining portions of the natural forests in Uganda. The natural forest is perfect to explore while on nature walks, offering the most refreshing natural air while you sight forest birds and interesting primates.
Semuliki National Park nature walks
Semuliki National Park is known for its Sempaya Hot Springs-the world's powerful female and male hot springs. The park boasts of its exceptional nature trails including 8kms Sempaya trail, 13kms Kirumia trail & 11kms Red monkey tracking.
Lake Mburo National Park nature walks
Nature walks in Lake Mburo National Park can be conducted at any part of the park with an experienced guide. The best area to go nature walk is Salt Lick and Rubango Forest walks.
Mount Elgon and Sipi Falls
Mt. Elgon and Sipi Falls also offer outstanding nature walk experiences. Forest walks can be done at the base of Mt. Elgon and hikes to the Sipi Falls, the 3 most scenic waterfalls the Eastern circuit of Uganda is known for.