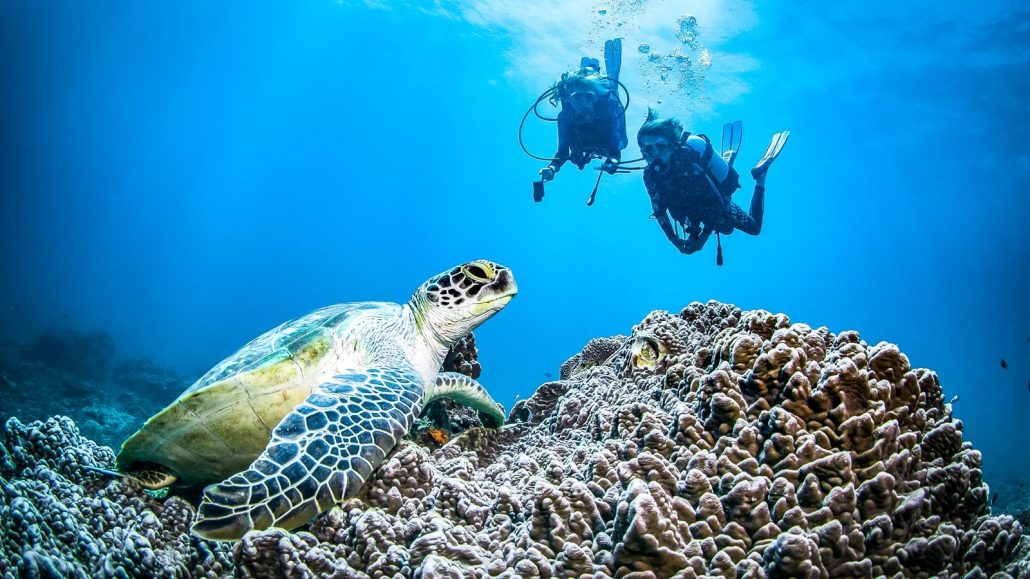 Drivers, prepare for surprises. Kenya is the equivalent of the Matterborn – irresistibly attractive! The waters are abundantly blessed with life. The water is clear and consistently warm. There are reefs, wrecks, walls, canyons and caves to be dived. The fringing reefs provide the dive sites and visibility is normally in excess of 20 metres. Examples of moray eels, groupers, octopus, scorpion fish, lobsters and rays are all plentiful. There are breathtaking sponges and coral covered drop-offs and the reef explodes with life. Most evident, of course, are the fish – moving, darting, hovering and again and again sweeping past in waves. Descending you notice many parting shapes, many you may have seen before although few can be named. Squirrel fish, butterfly fish, damsel fish and in the distance a shadow emerges; great wings carry the ray nearer. You watch in wonder as it glides away, silently, as it arrived.
Corals flourish in warm clear seas and on any one of our healthy reefs you can find as many as 40 coral species. Not many divers can handle the identification problem.
Service on all diving along the Kenyan Coast is likely to surprise you. All you are expected to do is to get kitted up and there is ample room to do that. In the meantime your B.C. and regulator have been fitted to the cylinder for you. Your gear is put on and after a swift check, in you drop. When you come back there are helping hands to take your camera, weight belt and fins. Your B.C. is removed and before you have time for a rest your gear is fitted to a fresh cylinder and you are ready for your next dive.
Dive sites vary greatly; some are quite commercialized. Others offer almost virgin diving. On the North Coast, Watamu is a perfect situation with several nearby coral reef. Dive training can be undertaken in courses offered by the British Sub Aqua Club or the Professional Association of Diving Instructors. There are three dive centres at Watamu and daily diving for experienced divers. Not far north of Mombasa, at Vipingo there are some good dive sites with swim through caves. However, these are strictly for experienced divers. Boats can be hired at Kilifi in order to reach this site. A few kilometers north of Mombasa, at Bamburi, there are several diving centres. Most of these offer C.M.A.S courses. Along this stretch of Coast you are quite likely to see crocodile fish and the dive sites are only a 20 minute boat ride away.
On the South Coast, Tiwi has a small, privately run, scuba diving operation where the aim is to provide a special atmosphere away from the more widely used areas. At Tiwi, instructors are PADI qualified and courses are available for novices. These range from a short course taking two to three days and consisting of theory, pool training and an open water dive, to a comprehensive course leading to international certification. The PADI open water course takes five to six days and is the most popular. Courses for more experienced divers include Advanced Open Water, Rescue Diver and Dive Master. At Tiwi, there are a variety of dive sites within 10-40 minutes boat rides from the school. The best months are between September and April, and although visibility depends, of course, on the weather. It is generally good throughout these months. Various types of hard and soft corals can be seen and on occasions whale sharks and mara rays are present. The lucky diver will sometimes see schools of dolphins racing across the reef. Night dives are perfection itself. On a moonlight night diving here is magical. As you descend the blackness becomes alive. Giant squid, large lobsters and crabs are in abundance. Coral polyps are out feeding in an exuberant display. Turtles come out to mellow overnight but also swim freely over the top of the reef with you. South of Tiwi is Diani Beach where there are a number of commercial diving centres although the diving sites are further south at Galu and Kinondo. These sites are popular but can suffer from an excess of divers.
Near Shimoni, not far from the Tanzanian border you can dive from large dhows. These are often surrounded by dolphins. You can relax between dives on several small islands.
Diving has become an important visitor attraction in Kenya. The unpolluted waters, the spectacular vertical walls and the great visibility have ensured this. Wherever you dive you will not be disappointed.