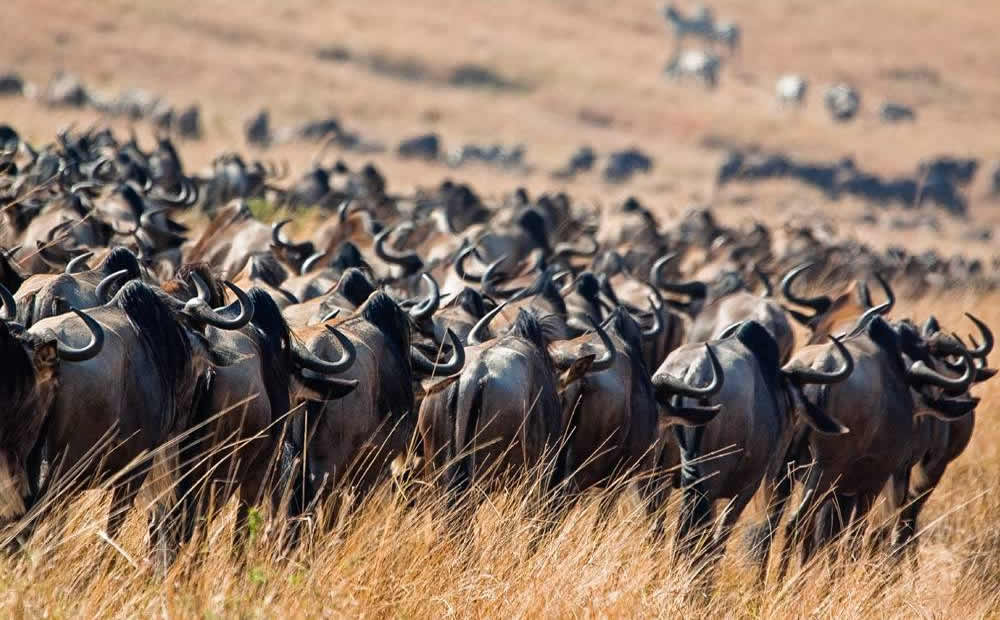 Safaris in Africa are different basing on the diversity of the continent in terms of wildlife, culture, history and adventure.  Majority of African safari goers are obsessed by wildlife viewing whether it is gorilla tracking in Uganda, experiencing big 5 mammals and watching the wildebeest in Kenya and Tanzania. There's a variety of wildlife apart from big 5 and primates for those who are keen on seeing giraffes, antelopes, hippos, crocodiles, birds, small cats. The following are the top destinations for safaris in Africa.
Masai Mara wildlife reserve- Kenya
Masai Mara wildlife reserve is located in southwestern Kenya. It adjoins with Serengeti ecosystem in Tanzania and therefore home to abundance of wildlife including big 5 mammals, as well as zebra, giraffe, cheetah, and several species of antelopes. It is particularly well known as the best place to see big 5 and the wildebeest migration. On top of that however another good reason why masai-mara is a top safari destination is the unique culture of the masai warriors who are known for their cattle, colorful beads and jewelry.
Serengeti national park – Tanzania
Tanzania's Serengeti national park has the greatest concentrations of mammals than anywhere else on earth.  It is a top destination for safari in Africa particularly for two reasons, abundance of big 5 mammals and watching wildebeest migration- the greatest wildlife spectacle on earth. Serengeti also has a diversity of ecosystems that range from extensive savanna grasslands plains, rivers, rift valley escarpments, which provide home to millions of mammals. The flat terrain especially in the central circuit allows for easy game viewing; from the big 5 to the small antelopes, giraffes, zebras, wild dogs, small cats, to hippos and reptiles to birds of prey. The park which is divided into three safari circuits, the northern circuit is the most popular where big 5 and giraffes are common, the central Serengeti and the western circuit where the wildebeest cross the crocodile infested Grumeti River.
Though the wildebeest migration requires well-arranged itinerary and timing, Serengeti offers superb wildlife all year round with a variety of activities such as game drives, hot air balloon safaris, walking safaris, rhino trekking safaris, birding, river viewing.
Kruger national park – South Africa
Kruger national park in South Africa is a network of several public and private game reserves covering about 2 million hectares. This huge wilderness area is home to big 5 mammals and a variety of wildlife. The park particularly has large populations of lions, herds of elephants and buffaloes along with small antelopes such as impala. Wildlife viewing here is made easy by the world class facilities including luxury lodges. However, kruger safaris can cater to any visitor needs and budget.
Bwindi impenetrable forest national park Uganda
Home to estimated 430 gorillas, roughly half of the world's mountain gorilla population, Bwindi is the best place in the world to see mountain gorillas in their natural habitat. Bwindi has about 17 gorilla families that have been habituated for tourism thus it's undeniably a top destination for gorilla tracking safaris.
Gorilla tracking is one of the life changing wildlife experiences. Guides will lead you on foot hiking through the forest searching for gorillas. Once they are found, visitors are allowed to view gorillas for 1 hour. Gorillas may be seen relaxing or feeding and moving which means that guides have to follow them which cane quite challenging but is very a rewarding authentic natural forest trekking experience. Adding a gorilla safari into your wild safari in Africa will make your trip a once in a lifetime experience!
Bwindi is an ancient tropical mountainous rain forest located at the edge of the Albertine rift valley in southwestern Uganda. It is located close to queen Elizabeth national park thus a gorilla tracking itinerary for at least 3 days also includes game drives, boat cruise safaris, chimp walks which reward with sightings of tree climbing lions, hippos, crocodiles and antelopes and up close encounter with chimpanzees.