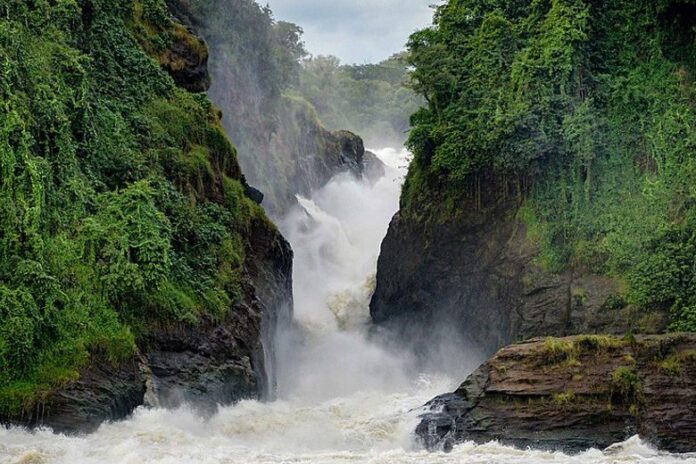 Uganda, according to Winston Churchill described it as the "pearl of Africa". The people of Uganda are the friendliest and ready to lend a helping hand to anyone. Uganda also boasts remarkable beauty, an abundance of wildlife, birdlife, and spectacular landscapes highlighted by the tallest mountain ranges with snowcaps, the source of the Nile River, and Africa's largest freshwater. Here are the 10 reasons you should consider visiting Uganda.
Uganda is one of the greatest locations for gorilla trekking because it is home to over 54% of the world's mountain gorilla population. A fascinating primate adventure, gorilla trekking can be had in Uganda's Bwindi Impenetrable National Park or Mgahinga Gorilla National Park. In addition to regular gorilla treks, Bwindi Impenetrable National Park in Uganda is renowned for offering thrilling mountain gorilla habituation experiences. When participating in the gorilla habituation experience, you are given four hours with the gorillas as opposed to the usual gorilla trek's one-hour limit.
Mountain gorilla trekking is accessible in two national parks; Mgahinga Gorilla National Park and Bwindi Impenetrable National Park. There are several habituated gorilla families within both parks. Twenty gorilla groups have been habituated in Bwindi Impenetrable Forest Park. Each group is given a group of 8 tourists per day, and treks begin in the four regions or sectors of Rushaga, Ruhija, Buhoma, and Nkuringo.
The sole group in the fifth sector, Ntebeko, of Mgahinga National Park that is accessible for tourists is the Nyakagezi group. In contrast to the gorilla habituation experience permit, which costs USD 1,500 per day, the standard gorilla tracking permit costs US$700 per permit per day.
Only four individuals are permitted to participate in the gorilla habituation experience each day, whereas 8 people are permitted to track a habituated gorilla family. If you're thinking about doing a gorilla safari in Rwanda, a permit will set you back US$1500 each day.
Abundant Flora and Fauna Species
Due to the distinctive and numerous floral and fauna species found there, Uganda is a popular tourism destination. Uganda is home to all five of the big game species as well as numerous primates, reptiles, birds, amphibians, and butterflies. Awe-inspiring natural features, unspoiled wilderness, and unusual vegetation, including open forested savanna, ecosystems, acacia woodlands, montane forests, grasslands, bush thickets, and extensive wetlands, are all found there.
Experience chimpanzee trekking and habituation at its best
The Kibale Forest National Park in Uganda is home to the largest group of chimpanzees in East Africa. In Uganda, there are roughly 5,050 chimpanzees, 1500 of which are found in Kibale Forest Park. Tourists can take part in chimpanzee tracking and chimpanzee habituation experiences in Kibale National Park. The Budongo Forest in Murchison Falls National Park, the stunning Kyambura Gorge in Queen Elizabeth National Park, the Kalinzu Forest, and the chimpanzee research at Semliki Wildlife Reserve are other places in Uganda where you can go chimpanzee tracking.
Golden Monkey Tracking Experience
There are many primate activities available in Uganda, including the opportunity to track and acclimate golden monkeys. The gorilla tracking and the golden monkey tracking, or habituation, are the two remarkable primate encounters that take place in Mgahinga Gorilla National Park. It should be mentioned that only 2,000–5,000 golden monkeys remain in existence today.
Additionally, while visiting Uganda, you get the opportunity to see these stunning creatures in their natural environment. The cost of a permit for the golden monkey trek is USD 100, while the cost of a permit for the habituation of golden monkeys is USD 140 per permit per day including park entrance.
Birding Safaris
The vast majority of the world's bird species are found in Uganda, which has a wide variety of habitats and is home to roughly 11% of them. Uganda is a true birders' paradise with over 1080 different bird species recorded there.  Everywhere in Uganda is a good place to go birding, but according to some birders who have taken safaris to Uganda to go birding, the best places to go are Bwindi Impenetrable Forest, Queen Elizabeth National Park, Murchison Falls National Park, Kibale Forest, Semuliki National Park, The Royal Mile in Budongo Forest, Lake Victoria, and Mabamba Swamp, which is known for its shoebill population.
These bird species include; guinea fowls, Shelley's crimson wings, crested cranes, marabou stork, the shoebill, Doherty's bush shrikes, Shelley's crimson wings short-tailed warblers, African green broadbill, Shelley's crimson wings, African dwarf kingfishers, standard-winged nightjars, great blue turacos, Rwenzori turacos, African emerald cuckoos, pelicans, and others
Breathtaking Scenery
Not other nations enjoy the same natural bounty as Uganda. Travelers on a Uganda tour come not just to see the wildlife but also to appreciate the stunning scenery and landscapes of the nation. The Mountains of the Moon, also known as the Rwenzori Mountain ranges, rift valleys, the Nile River, and numerous picturesque water features, including Lake Victoria, the largest freshwater lake in the world, are just a few of Uganda's distinctive features. It is only possible to enjoy the country's unspoiled environment while you are there, particularly at Kidepo Valley National Park, where seeing it will make you feel fortunate for choosing to travel there.
Responsible tourism and conservation
It is undeniable that Uganda is such a beautiful destination since the country's tourism industry is heavily reliant on the beauty of nature. There are more well-maintained protected places in addition to the 12 Wildlife Reserves and 10 National Parks. The fundamental objective of conservation is to preserve resources for generations to come , and a sizable amount of tourism revenue is used for this purpose. The national parks' tourism money directly benefits the local communities that surround them. Schools and medical facilities including hospitals have been established to serve the surrounding towns, and many more facilities have been built to help the community live in a good and healthy environment.
The hospitable people and their cultures
Uganda is a vibrant cultural safari destination with 56 tribes and about 70 spoken languages. These include Batwa in southwest Uganda, the Banyankole in western Uganda, the IK, Karamojong, Bamba and Basongora, which are just a few of the eight indigenous communities in Uganda. You will meet and interact with the friendly and warm welcoming Ugandans as soon as you land on Ugandan soil for your Uganda tour.
The IK community on Mount Mulongole in the country's extreme northeast, is primarily a farming community despite having close neighbors who are pastoralists, and the Batwa, who live in the forest and are found in Bwindi, Semliki, and Mgahinga and are often referred to as "pygmy people," are among the indigenous communities that are most frequently visited.
The best of Uganda's distinctive cultures and traditions can be experienced in a variety of ways on a cultural tour, this includes visiting sustainable community-based tourism initiatives like the IK and Karamojong Communities, the Batwa Development Programme. If you get to travel to Uganda during an even year, you can observe the Bagishu in the country's east participate in the Imbalu initiation rite all year long and witness how men are being circumcised in a local way.
Food and Dining
There should be a wide variety of foods available in a nation with more than 50 tribes. Various food types are linked to a certain location because practically every region has its own traditional dish. In central region, you can find matooke (steamed bananas), potatoes in eastern Uganda, millet, sorghum, Irish potatoes, and cassava in most of the country. The Luwombo made with banana leaves is the most popular of all. However, the majority of guests prefer the quick supper known as the rolex, which consists of a chapatti wrapped with eggs and associated other ingredients.
Pleasing Weather and Climatic Conditions
The climate and temperature are pleasant all year round in Uganda because it is located near the equator. As a result, it's a great place for nature enthusiasts to embark on guided mountaineering expeditions, gorilla treks, and other related nature walks. With January and February being the hottest months, the average daily temperature in Uganda ranges from 24 to 33 degrees Celsius. The dry months—June through September or December through February—are the ideal times of year to travel to Uganda.
Remember that Uganda is a tropical country full of mystery, so you might be astonished when you visit to find that it doesn't rain during the wet season. Here the season is unpredictable.