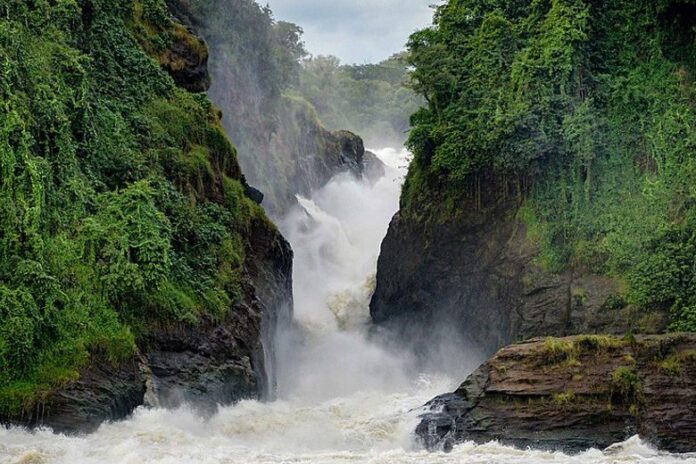 Uganda is among the top tourist destinations in Africa and the world at large. It is a landlocked country situated in East Africa. Uganda is found in the western region of Kenya, the northern region of Rwanda and Tanzania, the eastern region of the Democratic Republic of Congo, and south of Sudan.
Uganda's tourism sector is growing rapidly due to a number of reasons, including security, many tourist attractions, improved infrastructure, and proper marketing of Uganda's potential, among others. Below are the 30 top tourist attractions in Uganda:
1. Mountain Gorillas
The chief tourist attraction in Uganda is none other than the Mountain Gorillas. They are some of the rarest species of Gorillas and offer impressive views in the astonishing destinations of Bwindi and the Virunga Crescent.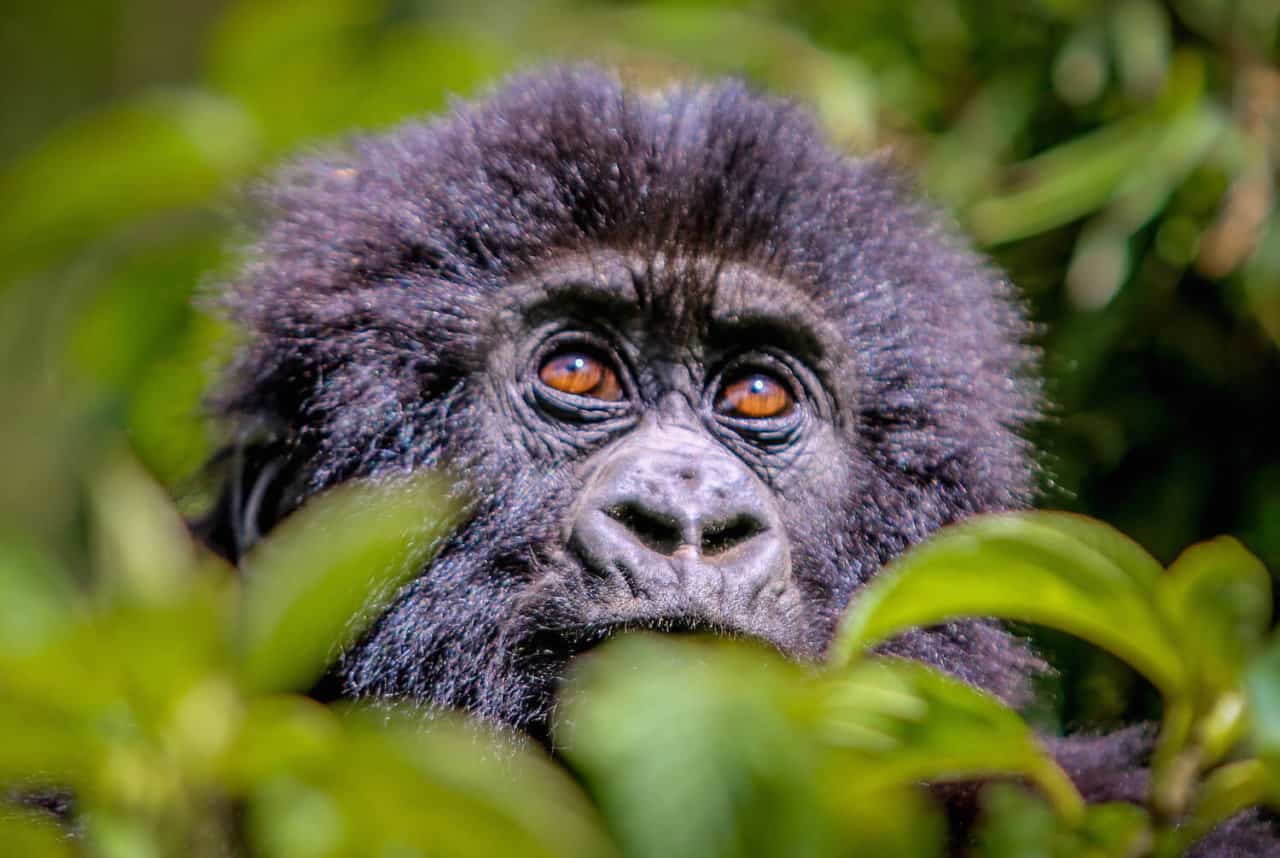 Daily gorilla trekking is done in southwestern Uganda, specifically in Bwindi Impenetrable National Park (BINP) and Mgahinga Gorilla National Park (MGNP), which is part of the Virunga region, together with Virunga National Park in the DRC and Volcanoes National Park in Rwanda.
The rare mountain gorillas are only found in Uganda, Rwanda, and the Democratic Republic of Congo, but the majority of them are found in Uganda. Based on the last census conducted in 2018, Uganda registered about 1,063 individual gorillas, and today, the number has increased.
2. Chimpanzees
If you miss seeing gorillas, at least visit chimpanzees in any of the five chimpanzee destinations. In Uganda, chimpanzees are found in Kibale National Park, Toro-Semuliki Game Reserve, Budongo Forest, Kyambura Gorge, and Kalinzu Forest.
Chimpanzees are amazing primates, and over 5,000 of them are found in Uganda, with 1,500 living in Kibale Forest. Kibale offers the most amazing trek, with two shifts every day. Chimpanzees live within distinct social structures, and seeing them is less strenuous compared to gorilla trekking.
3. Golden Monkeys
Golden monkeys are another beautiful primate found in Uganda. Compared to other monkey species, golden monkeys are gorgeous in appearance. Mgahinga Gorilla National Park is found in the far southwestern part of Uganda and is known for hosting both mountain gorillas and golden monkeys, so you can decide to see both amazing primates.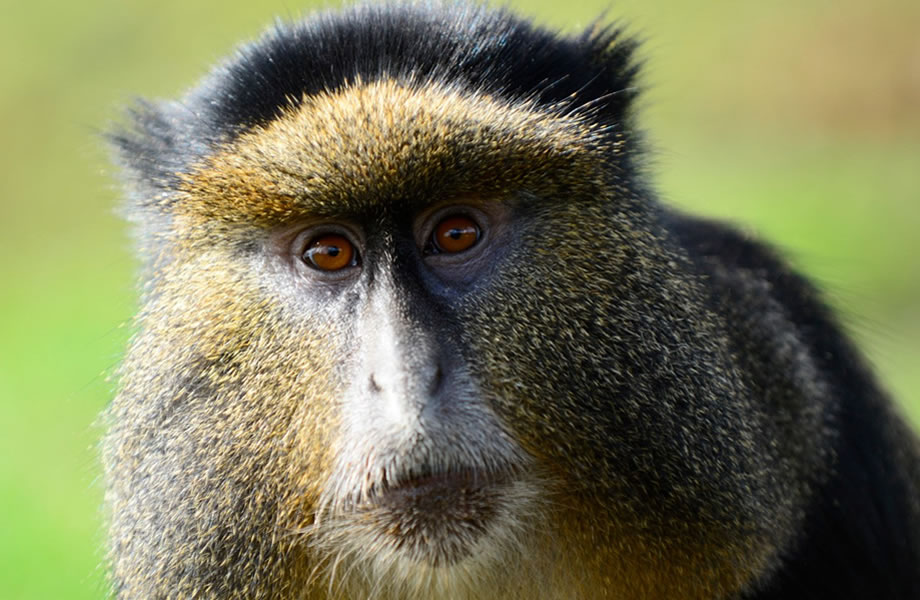 Golden monkey trekking is less strenuous compared to gorilla trekking because they are easily found based on their current feeding ground. Golden monkeys spend most of their time in their feeding ground, and in Mgahinga, they are mostly found in the bamboo section of the park. Compared to other monkeys, golden monkeys are gorgeous in appearance. Golden monkeys stay in large groups of about 100, led by an alpha male.
4. "The Big 5" animals
They include elephants, rhinos, lions, leopards, and buffaloes. While on a Uganda safari, explore the destinations to meet "The Big Five" animals. Visit Ziwa Rhino Sanctuary to trek rhinos, Queen Elizabeth National Park to encounter lions, Kidepo Valley National Park, Murchison Falls National Park, and Queen Elizabeth National Park to see elephants.
Leopards are found in Queen Elizabeth National Park, Lake Mburo National Park, Murchison Falls National Park, and Semuliki National Park, among others. Leopards are shy animals and are rarely found during the day. However, they can be found in other destinations not listed here. Buffaloes are found in all savannah parks but are popularly found in Kidepo Valley National Park, Murchison Falls National Park, Queen Elizabeth National Park, and so on.
5. Visit the Source of The Nile
Visiting the source of the Nile in Jinja, Uganda, is an awe-inspiring experience that allows you to witness the birth of one of the world's most famous waterways. Located at the point where the Nile emerges from Lake Victoria, this iconic site holds both historical and geographical importance, attracting visitors from around the world.
Standing at the source, you can feel the wonder as the waters begin their remarkable journey northwards. Exploring the area offers various activities such as boat trips to witness the confluence with Lake Victoria, thrilling white-water rafting on the Nile's rapids, and visiting the Speke Memorial, which provides insight into the historical significance of the Nile's discovery.
A visit to the source of the Nile in Jinja immerses you in the wonders of nature and the incredible story of this legendary river.
6. Birds
The most popular birds not to miss in Uganda include Shoebills, Grey crowned crane, Marabou Stork, Green-breasted pitta, Shelley's crimson wing, standard-winged nightjar, African Green Broadbill, Great Blue Turaco, white-crested turaco, among others.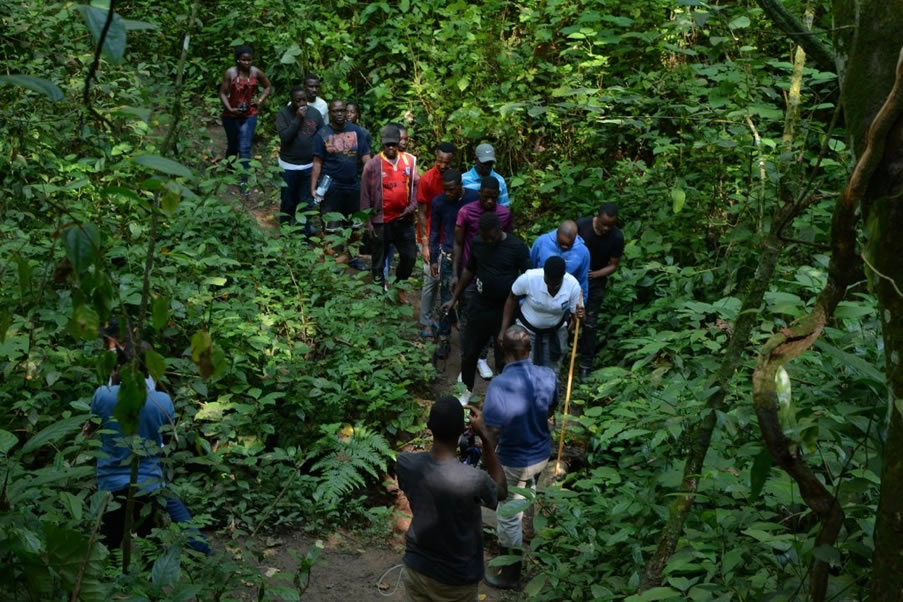 Uganda is famously known as a birding paradise and haven, harboring over half of Africa's bird species. It isn't only the sheer number of bird species documented within Uganda's boundaries that makes it a paradise for birders, but also the accessibility to numerous bird-rich territories that are often complicated to get to in other countries.
The popular birding spots in Uganda include Bwindi Impenetrable National Park, Kazinga Channel, Lake Bunyonyi, Mgahinga Gorilla National Park, Semuliki National Park, Mabamba Swamp, Murchison Falls National Park, Kidepo Valley National Park, Lake Mburo National Park, Mabira Forest, and Mountain Elgon National Park, among others.
7. Mountain Rwenzori
It's also known as the "Mountains of The Moon" and is the highest block mountain in Uganda with the third-highest peak in Africa (Margherita peak at 5,109m). The upper region of Mountain Rwenzori is permanently snowcapped and glaciated.
There are many attractions on Mountain Rwenzori, including birds, rivers, Rwenzori lakes, Rwenzori snow peaks, and glacial features, among others. Mountain Rwenzori was gazetted in 1991 and was recognized as a World Heritage site in 1994 and a Ramsar site in 2008.
8. Sipi Falls
Situated in Eastern Uganda at the foothills of Mount Elgon, just at the edge of Mount Elgon National Park near the Kenya-Uganda border, Sipi Falls comprises three waterfalls, each pouring at a different altitude.
The highest fall drops from an altitude of 100m and is referred to as the main fall since it is the last fall in the series. This fall is slightly bigger than the other two falls, but all give Uganda beautiful scenery. In fact, most people say that Sipi Falls is the 'most romantic fall' in Uganda, which is evidenced by the wonderful falls.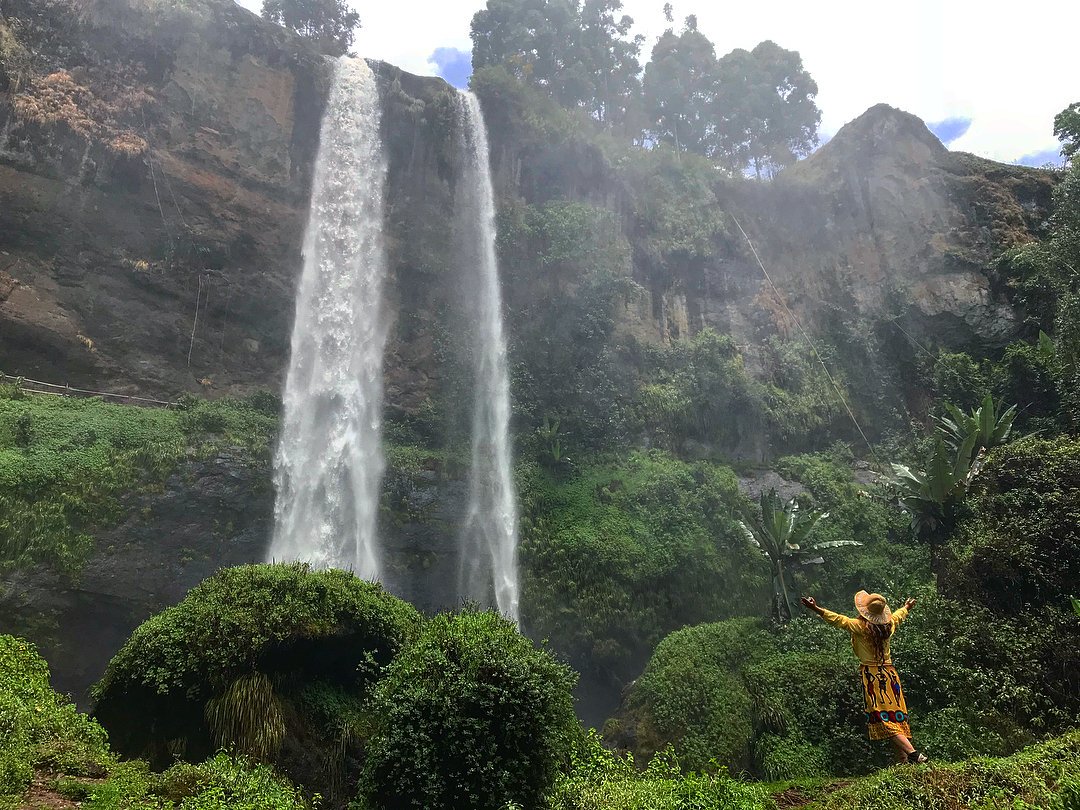 The area experiences a cool climate due to the mountainous nature of the region, and hiking in the rainy season can be hectic but worth undertaking. Other waterfalls in Uganda include Sezibwa Falls, Bujagali Falls, Murchison Falls, Aruu Falls, Kisizi Falls, and Mpanga Falls, among others.
9. Kampala city
It's the capital city of Uganda, situated in the central region. Kampala city sits on seven hills and rises about 3,900 feet above sea level. The five divisions that make up Kampala include Kawempe, Nakawa, Rubaga, Makindye, and Central Division.
The origins of Kampala city go back to 1891 when the Kabaka of Buganda had his court on Rubaga and Mengo hills. The town that grew from a colonial and royal resting place achieved municipal status in 1950 and became a city in 1962.
Today, Kampala city provides magnificent evergreen trees, gently disrupted by red-tiled villas, green iron-roofed bungalows, as well as taller modern city profiles that give way to attractive views of the surrounding countryside and nearby Lake Victoria.
Kampala city has many tourist destinations like Kabaka's Lake, Kabaka's palace, Kasubi Tombs, Uganda Museum, fruit markets, art and craft shops, entertainment cinemas, theaters, and worshiping places, among others.
10. Uganda Wildlife Education Centre (UWEC)
Formerly called Entebbe Zoo, it's a conservation center where all animals can be accessed. The center was opened in 1952 as a center for wildlife that were found casualties, injured, orphaned, sick, or confiscated from poachers or illegal trade.
In the 1960s, it changed its role into a zoo, and non-indigenous species like bears and tigers were introduced and kept as attractions. In 1994, wildlife management was restructured, and the zoo turned into the Uganda Wildlife Education Center trust.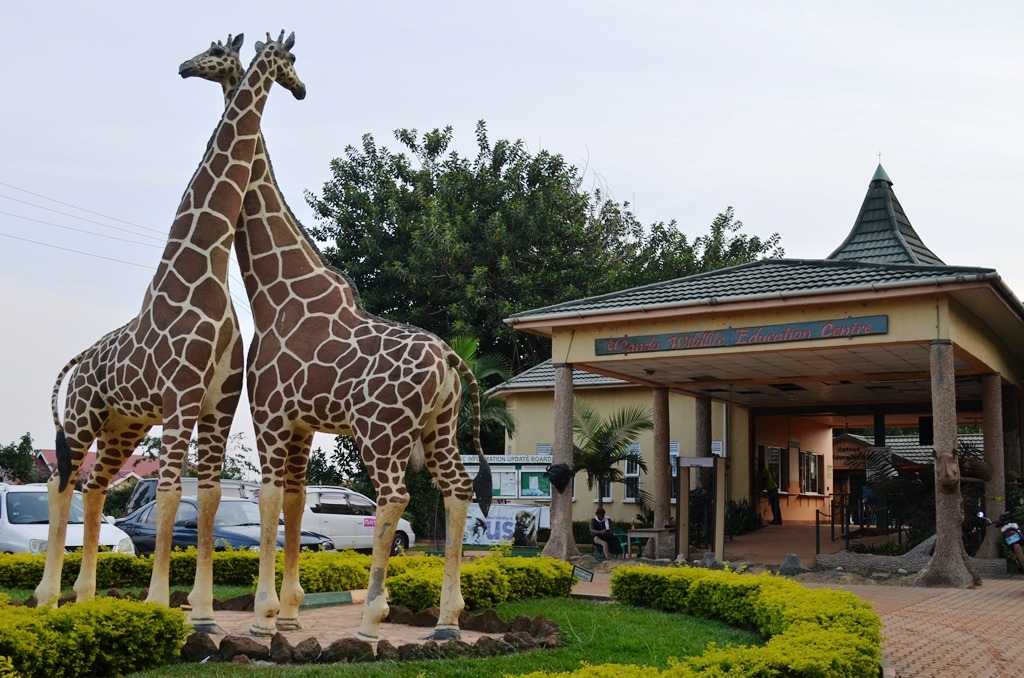 The aim was to develop the zoo with an emphasis on conservation education. The center houses various animals, including rock pythons, cheetahs, leopards, lions, shoebill storks, tortoises, giraffes, chimpanzees, baby elephants, and rhinos
11. Kazinga Channel
It's one of the popular tourist attractions in Queen Elizabeth National Park. Kazinga Channel is a water body that connects Lake Edward and Lake George. While in Queen Elizabeth National Park, don't miss the boat launch to explore Kazinga Channel.
Expect to encounter water-loving mammals like hippos, crocodiles, monitor lizards, and other animals that regularly visit the channel to quench their thirsts, such as elephants, buffaloes, lions, antelopes, waterbucks, and many others. The Kazinga Channel is a wide, 32-kilometer (20 mi) long natural channel
12. Ngamba Island Chimpanzee Sanctuary
It's another home for orphaned and rescued chimpanzees. The island can be accessed by water transport or air transport (plane). Surrounded by the peaceful waters of Lake Victoria, travelers to Ngamba Island enjoy a 26 km boat cruise from Waterfront Beach in Entebbe.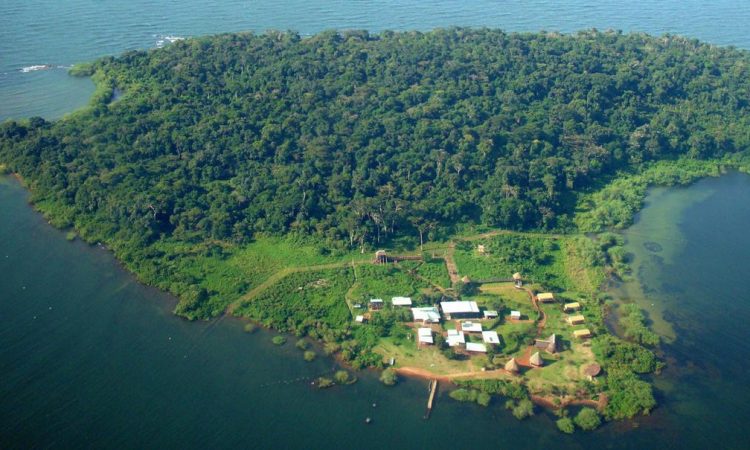 Ngamba Island covers 100 acres (40 ha), and the major tourist activities include chimpanzee viewing and birding, among others. To everybody willing to donate for the well-being of chimpanzees, you are welcome to be part of the conservation team at Ngamba Island. For more information, contact them via their official website: https://ngambaisland.org/.
13. Tree-climbing lions
It's a rare species of lion found in Queen Elizabeth National Park and the Ishasha sector, a game reserve of QENP. The lions love climbing the common acacia and large sycamore-fig trees in the plains, especially during the dry seasons, as the entire pride spends their days on trees.
Unfortunately, the number of lions is decreasing due to poaching, increased human population, diseases, and other factors. There are arguments that tree-climbing lions climb trees to avoid biting insects, widen views for prey, avoid feeding competition, and regulate temperature, among other reasons.
14. Mountain Elgon
It's the highest volcanic mountain in Uganda. Mountain Elgon is the oldest Ugandan physical feature and last erupted 24 million years ago. It was once the highest mountain in Africa, exceeding the current Kilimanjaro at 5,895m.
Due to continuous erosion, the height of the peak greatly reduced to 4,321m, relegating it to the fourth-highest peak in East Africa and eighth on the continent. It has the largest volcanic base called Wagagai, covering 4,000 square kilometers.
It's home to the Bagisu "Bamasaba," who practice the cultivation of coffee and banana plantations. Mountain Elgon National Park is home to over 300 species of birds, including the endangered Lammergeyer.
15. Ssese Islands
It's an archipelago of 84 islands situated in the northwestern part of Lake Victoria in Uganda. Ssese Island is found in the Kalangala district in south-central Uganda. Bulaga Island is the largest in the archipelago of 84 islands and is home to many primate species, including colobus and vervet monkeys, sitatunga antelope, and several rare birds.

Among the 84 islands, Bugala is more developed for tourism, and the major activities done on the island include swimming, bicycle riding, quad biking, and boat cruises, among others. Other islands in the Ssese Island archipelago include Bukasa Island, Banda Island, Nkose Island, and Ngamba, among others.
16. Kabaka's Lake
It's a man-made lake in Kampala, Uganda. Kabaka's Lake was dug by Kabaka's men and is located 5 km from Kampala city center in the Ndeeba area, between the ring road and Nabunya road. It was dug in 1880 under the orders of Mwanga, with men and women from all 52 clans of Buganda being responsible for digging the lake.
The aim of digging Kabaka's Lake was to connect it to Lake Victoria, act as an escape route, and connect Mulungu Hill, which was built by his father, Kabaka Mutesa, before his death.
17. Uganda Martyrs Shrine Namugongo
It's situated in Kyaliwajjala Ward, Kira Municipality, Wakiso District, approximately 12 kilometers (7 mi) northeast of Uganda's capital, Kampala. The township is bordered by Nsasa to the north, Sonde, and Bukeerere to the east, Bweyogerere to the southeast, Naalya and Kireka directly to the south, Kyaliwajjala to the southwest, central Kira to the west and northwest.
On 3 June 1886, 32 young men, pages of the court of King Mwanga II of Buganda, were burned to death at Namugongo for their refusal to renounce Christianity. They were Anglican and Catholic.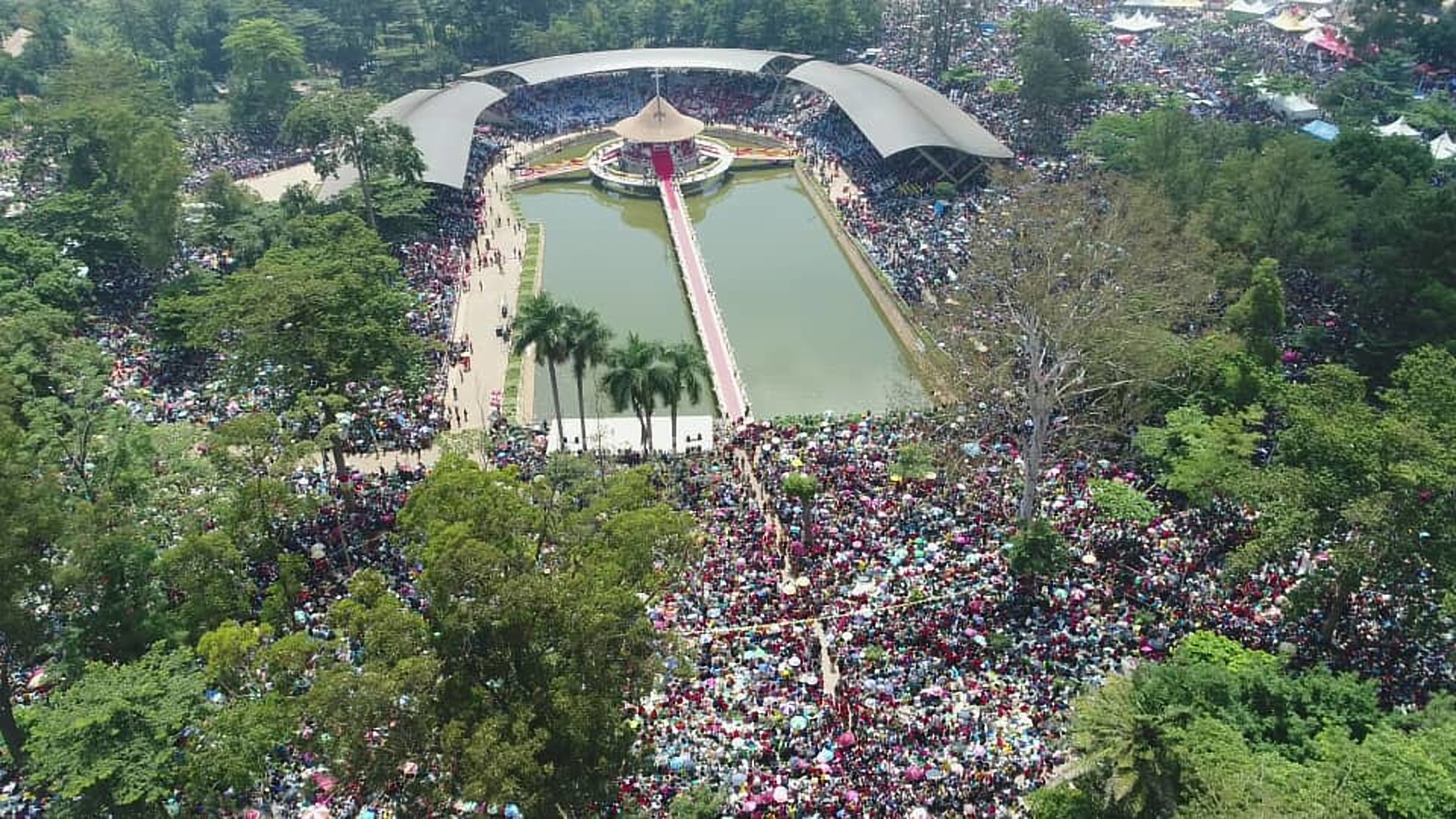 Every 3rd June, Christians from Uganda and other parts of the world congregate at Namugongo to commemorate the lives and religious beliefs of the Uganda Martyrs. Crowds have been estimated in the hundreds of thousands in some years.
18. Lake Bunyonyi
It's one of the deepest lakes in Uganda, situated in West Africa. Moreover, it's one of the safest lakes in Uganda, with no crocodiles, or hippos, and free from bilharzia. The lake is home to over 200 bird species and is one of the best birding destinations in Uganda.
Tourists planning to visit Lake Bunyonyi are encouraged to carry cameras to capture great moments. The lake is based in southwestern Uganda, sandwiched between Kabale (53 km away) and Kisoro (48 km away). While at Lake Bunyonyi, you can swim, go canoeing, birdwatching, ride bicycles, relax at the shores, and take community tours, among other activities.
19. Lake Victoria
It's the largest freshwater lake in Uganda, with a surface area of 59,947 square kilometers. It's the world's largest tropical lake and the second-largest freshwater lake in terms of surface area. It's shared by Uganda, Kenya, and Tanzania.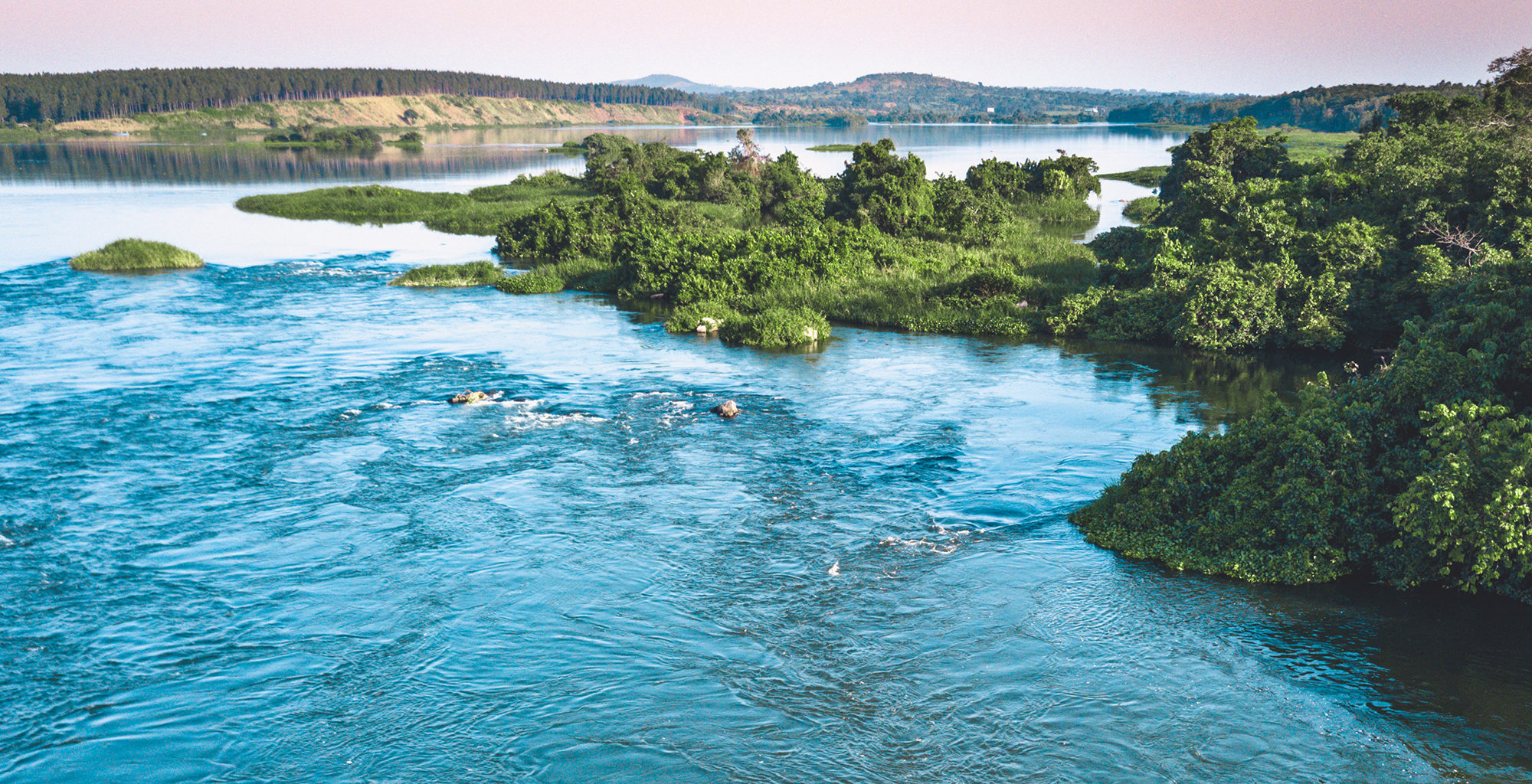 The lake is surrounded by many tourist attractions like beaches, islands, birds, hippos, crocodiles, and monitor lizards, among others. Lake Victoria drains many rivers like the Nile and others.
20. Game Drives
Uganda's game drives in savannah parks offer a thrilling opportunity to explore the country's abundant wildlife and natural beauty. Set in the vast savannah landscapes, parks like Queen Elizabeth National Park, Murchison Falls National Park, and Kidepo Valley National Park are home to a diverse array of wildlife species.
During the game drives, visitors have the chance to spot iconic African animals such as elephants, lions, giraffes, buffalos, zebras, and various antelope species, among others. The drives are typically led by experienced guides who provide valuable insights about the animals and their habitats.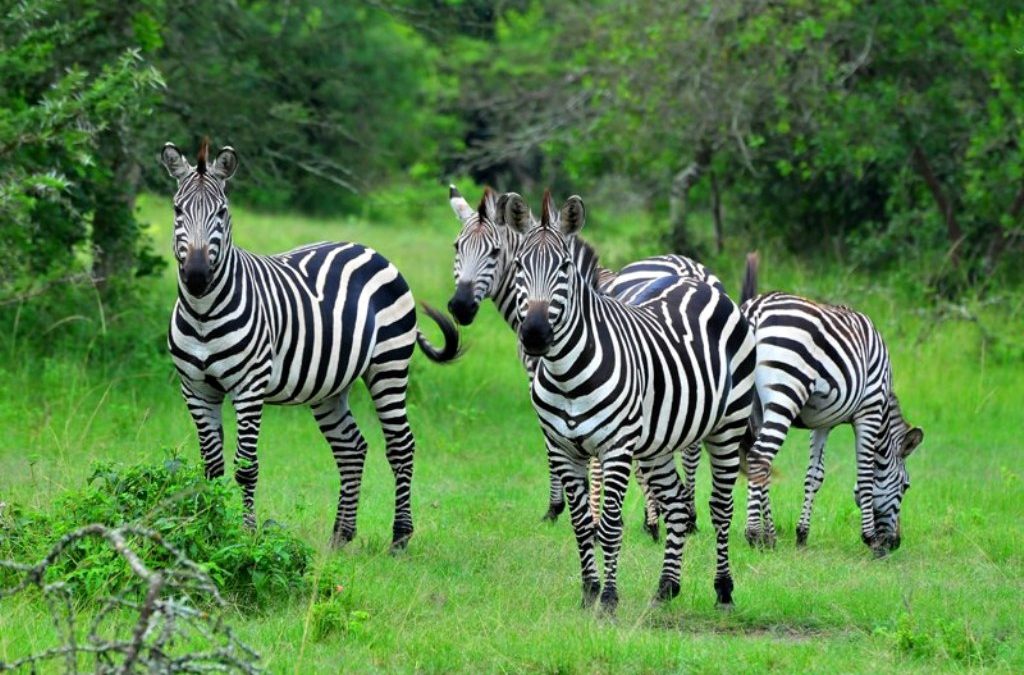 With the backdrop of stunning scenery and the soundtrack of nature, Uganda's game drives offer an unforgettable adventure and an up-close encounter with the country's remarkable wildlife.
21. Kasubi Tombs
It's situated in the Kasubi Nabulagala area in Kampala city, serving as the burial ground for the former Kings (SseKabaka) of Buganda and other members of the royal family. As a result, the site remains an important spiritual and political site for the Ganda people, as well as an important example of traditional architecture.
It was ranked as a World Heritage site in 2001. In 2010, the Kasubi Tomb was destroyed by fire and was listed among the World Heritage sites in danger. Currently, four Kings (Kabakas) are buried in Kasubi Tombs, including Muteesa I (1835-1884), Mwanga II (1867-1903), Daudi Chwa II (1896-1939), and Sir Edward Muteesa II (1924-1969).
The reconstruction of the Tombs is underway and is about to be finished, according to the Katikkiro of Buganda, Charles Peter Mayiga. We expect tourists to start visiting the tombs again in the near future.
22. Mengo Kabaka's Palace
It's the official home of the Kabaka of Buganda and one of the major tourist attractions in Uganda. Mengo Palace has been in existence since the reign of Kabaka Mwanga II, who succeeded his father Kabaka Muteesa II in 1814. Kabaka's Palace, known as Twekobe, was constructed in 1922 during the reign of Kabaka Daudi Chwa, who succeeded King Daniel Mwanga II in 1887.
In 1887, King Daniel Mwanga II was exiled to the Seychelles Island, leaving the kingdom without a king. Therefore, when King Daudi Chwa turned 18 years old, he was helped by Sir Apollo Kagwa, Mugwanya Stanchions, and Zakaria Kisingiri to be crowned as the ruler of the kingdom of Buganda.
23. Nakayima Tree
The spiritual tree is found in Mubende Hill. It's one of the oldest trees in Uganda today. It's believed that the Nakayima tree was planted by Nakayima, the wife of Ndahura, a local ruler of the Bachwezi, over four hundred years ago. People visit the Nakayima tree to seek spiritual blessings.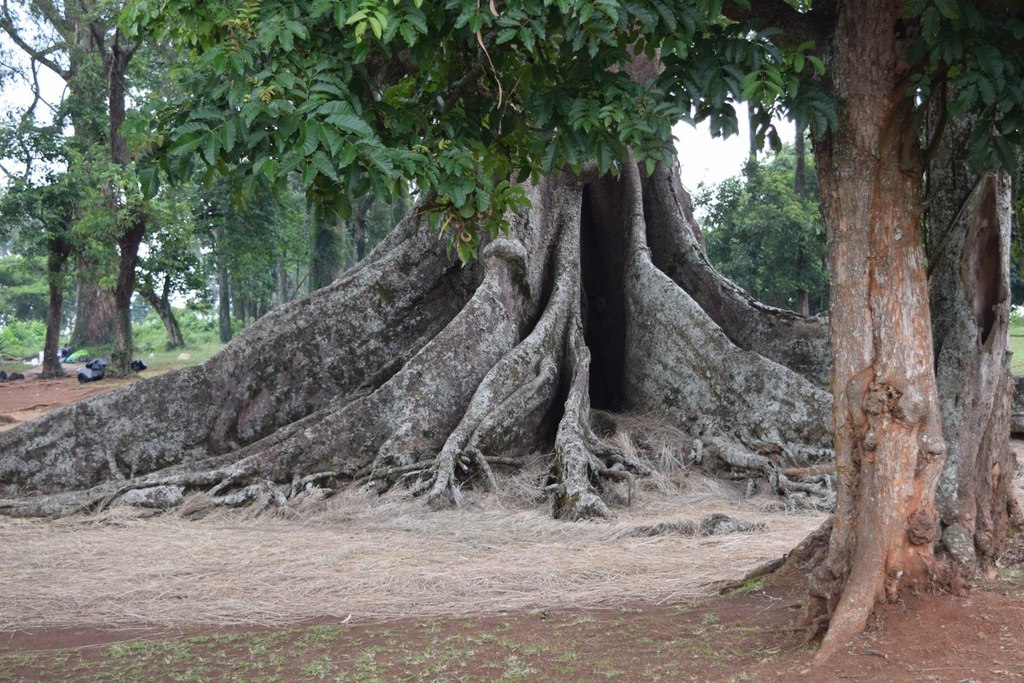 Nakayima tree is one of the major tourist attractions in Mubende district and is believed to house the spirits of Ndahura (the god of smallpox). On the way to Kibale National Park, make a stopover at Mubende Hill to visit Nakayima Tree.
24. Lake Mutanda
It's located in far southwestern Uganda, in the Kisoro district. It's one of the popular crater lakes in Uganda. The lake's fresh, clean water is dotted with at least 15 islands, lush trees, and shrubs. The lake is ringed by the beautiful scenery of sprawling highlands clad with green vegetation, plantations, and terraces of crops along the slopes.
This amazing scenery is set against a stunning backdrop of the cloudy peaks of the Virunga Mountain Volcanoes. The chain of volcanoes of the Virunga Mountain Range spans the borders of Uganda, Rwanda, and the Democratic Republic of Congo.
Uganda shares three of its prominent eight volcanoes: Mountain Muhavira, Mountain Gahinga, and Mountain Sabyinyo, which make up Mgahinga Gorilla National Park.
25. Mountain Gahinga
It's a dormant volcano situated in the Virunga region and shared by Rwanda and Uganda. It's located between Volcano Sabyinyo and Muhabura. Gahinga is among the tall mountains, standing at 3,474m tall.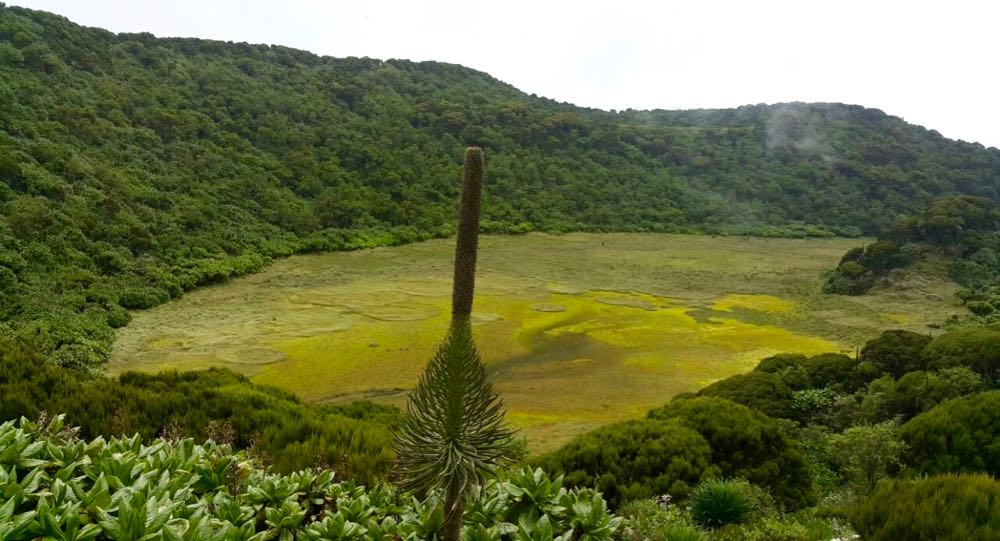 Mt. Gahinga offers a perfect base for Gorilla and Golden Monkey trekking in Uganda. It's dominated by montane forests with bamboo. It's a 6-hour round trip from Ntebeko. Mgahinga Gorilla National Park offers gorilla trekking, Golden Monkey trekking, birding, and mountaineering, among other activities.
26. Virunga region
It's shared by Uganda, Rwanda, and the Democratic Republic of Congo (DRC). The region is one of the most important tourist destinations in Africa and the world at large due to its hosting of rare mountain gorillas, golden monkeys, birds, and more. The Virunga region encompasses Mgahinga Gorilla National Park in Uganda, Virunga National Park in the Democratic Republic of Congo, and Volcanoes National Park in Rwanda. Virunga's 7,800 square kilometers (3,000 square miles) stretch from the Virunga Massif in the south to the Rwenzori Mountains in the north.
27. Ndere Center
The Ndere Cultural Center is an African cultural hub that spans over 9 acres of well-maintained African flora and fauna. It is characterized by indigenous architecture giving a modern and fresh look. At the Cultural Centre, there are a variety of accommodation options for guests to choose from.
All of these are surrounded by an aura of flora and fauna, providing a picturesque view for our guests to wake up to. Breakfast is also provided with each accommodation package. Our range of accommodations provides the perfect getaway for couples, families, or groups, along with a safe environment for individual travelers.
28. Uganda Equator
It's where a tourist can go and stand in the northern and southern hemispheres at the same time. It's a landmark for tourists in Uganda, and a stopover is a must-do experience to take photos. The equator is defined as the imaginary line that separates the two hemispheres. The prominent equator monuments are along the Kampala-Masaka road, in Nabusanke village, 72 kilometers from Kampala city, a 2-hour drive. Other monuments are found in Queen Elizabeth and near Entebbe town.
29. Botanical Garden Entebbe
Situated in Entebbe, Wakiso district in Uganda, the gardens were established in 1898 near Entebbe Airport and the Equator line. They cover an area of 2 kilometers along Lake Victoria.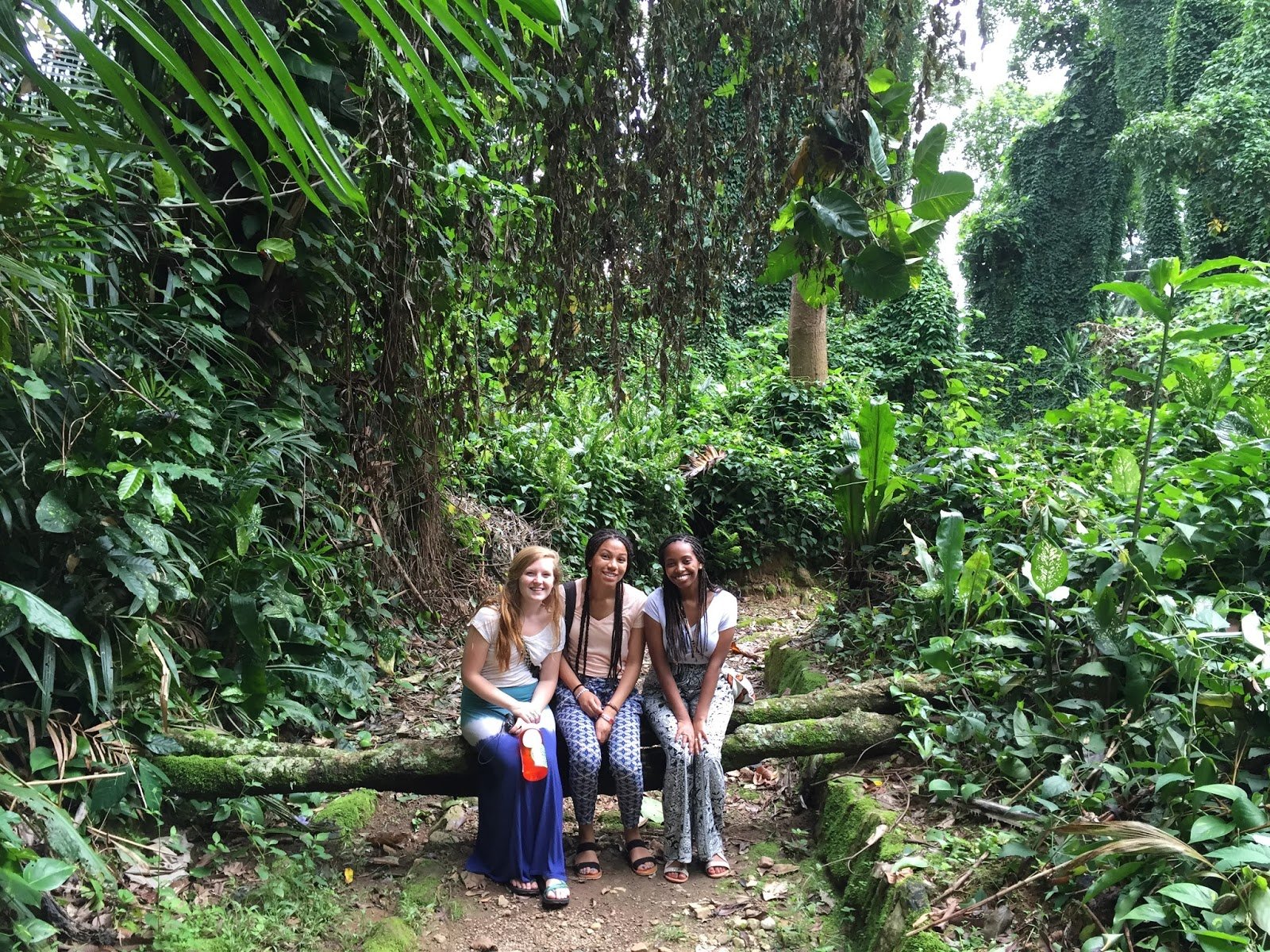 The botanical garden serves as an education center, for awareness creation, and scientific research purposes. At the botanical gardens, expect to study with a local guide about 120 plant species, birds, and more.
30. Rubaga Cathedral
If architectural beauty is your thing, the Rubaga Cathedral in Kampala is well worth a visit. Built-in 1914, this historic cathedral sits on a hill overlooking the capital city.
A free guided tour gives you the chance to see the attractive interior, impressive stained-glass windows, and artifacts. There are also two tombs here that contain the remains of the first African Archbishop of Kampala Diocese and the first African Catholic Bishop.