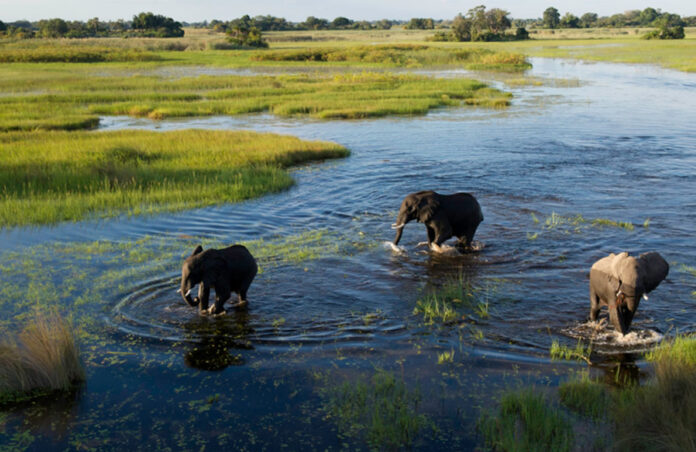 Okavango depicts the real image of Africa, such an enthralling destination, where nature and its gems are in abundance and the quest or the safari will give you such unique and utterly exhilarating experience. A scenic sight of pure river bursting into the wild highlands as it came lazily meandering through wilderness. Forming an intricate web of life, where the river spills into the sands of Kalahari- Okavango delta.
The Okavango delta– Largest inland delta in the world and largest freshwater wetland of Africa
Okavango is in Botswana. The Okavango is myriads of lagoons and absolutely mind blowing lakes and labyrinth of hidden channels which covers an over all area of over 17,000 square km. A magnet for the wildlife, Okavango is also called as "swamp" though it is anything other then that. The place will leave you moving, as there is some mysterious aura, though it is placid, serene and gentle. It's truly a picture perfect of beautiful and passionate Africa.
This absolutely amazing place is more beautiful and enigmatic coz of its wide and winding channel, exploring further it becomes tiny and unnoticeable channels and amidst the wall of papyrus reed and then opening up in smaller passages into expanding networks. The whole place is link of succession of lagoons, with small islands and minute islets. The open grasslands along with the flooded plains that are mosaics with hues of earthy colors on land and water.
Okavango is fringed by palms and towering trees and in middle lies the crystal pools, grassy knolls and forest glades with snaking game trails.
Okavango is a year round place to go for safari with one of the greatest destination for the huge concentrations of wildlife in Africa in Botswana's unforgiving bush, the oasis of thriving life. The water of Okavango river is clean and clear, and very pure though it carries some 660 000 tons of sediment which it delivers every year for its alluvial fan. But you will feel so romantic and so close to nature when you see the lotus and in night when the night lilies open. Its really so beautiful and amazing!
Wildlife:
plethora of birds and beast
More then 400 species of bird's chatters and twitter and twerp here. Under the vast blue sky just see the flock of birds flying, what a beautiful and amazing scene it is.
Warblers
Kingfishers
Parrots
Spur-winged goose
Purple heron
Ground hornbills
Hooded vultures
Blacksmith plovers
Or just see the lioness quenching her thirst, or elephants bathing or see hippo and on him there is sitting a bird showing symbiotic relationship. As a matter of fact by the river side you can even see huge croc's basking in sun's glory! Look out for cute baby crocodile's that one day could reach some five meters in length and can live for more than 80 years. The newly born impala suckles its mother such beautiful sight it is.
Isn't the place a nature's quest? A stunning beauty.
On the mainland and also on some islands in Okavango delta you can see predators and herbivores:
Lions
Hyenas
Wild dogs
Buffalo
Elephants
Hippo
Crocodiles
Antelopes
Mongoose
Bush babies
Red lechwe
Bat-eared fox
Impala
Monkeys
Warthog
Spotted genets
Tree squirrels
Fishing is allowed and its fun. But if you looking for some big, mean and difficult catch go deeper and faster waters in north delta, try out Panhandle a better area.
Okavango has numbers of safari lodges and camps established in and around watery wilderness. Specially check out with the game-rich Moremi Game Reserve that's bordering the Okavango Delta. Explore Chobe National Park and Linyanti Wildlife Reserve, which offers the visitors, adventurers, wild life lovers and bird watchers the best of several worlds, that's been appealing to the game-viewers, the sporting fisherman. Also to wanderlust for exploring of hidden places islets and covets. But most important for people who have zeal and love for Africa to experience Okavango in its least spoilt state.
If you are on tour or even if you hire a local guide, they will share their proficient knowledge and expertise of the Okavango with you, you will take on with them tracking a pride of lions that is on foot! Or go look for for the elusive Pel's Fishing-Owl. And the best is simply finding the idyllic spot for a romantic sunset.
Okavango is traveler's chance to kick back in style. At the lodge you can enthrall in gourmet cuisine, with fine wines, have exquisite accommodation from world class resorts to suiting your pocket size though all have a common feature of attentive service – as the Botswana people are known for its friendly and welcome guest gesture.
And best time to experience Okavango Delta is at dawn when the mist curls off the pristine mirrored waters. Take a glide downstream in a guided mokoro and keep your eyes wide open to look for birds forming a 'v'shape in sky when they fly over the waters with backdrop of orange sun. Its so quaintness to observe aquatic antelope; and if you even seek adventure then go on game drives safaris. But there is nothing quite compared to the thrill and adventure of sitting in a flimsy canoe rowing on crocodile-infested water with abundant- two-tones monsters with a well-earned reputation for belligerence exploring amidst the plains and woodlands fringing the Delta or simply take a boat cruise, and on board you can sip a cool sundowner with a backdrop of the sun burns the sky.
Perfect for an outrageously romantic honeymoon in Okavango Delta. With such beautiful backdrops and so many exciting things to do with the natures delight this will be a unique experience and superb way to start the new life.
Things to do:
Game viewing
Fishing
Bird watching
Indulging self in nature
Photography
Simple relaxation
Okavango with overawing sense of nature at its most extravagant with lush indigenous forests, floodplains, raw and uncompromising nature, a great marriage of water and sand with blend of activity and tranquility Okavango is glimpse of unsullied, wilder destination of land and water. Okavango is truly Africa's enthralling destination of nature's quest.