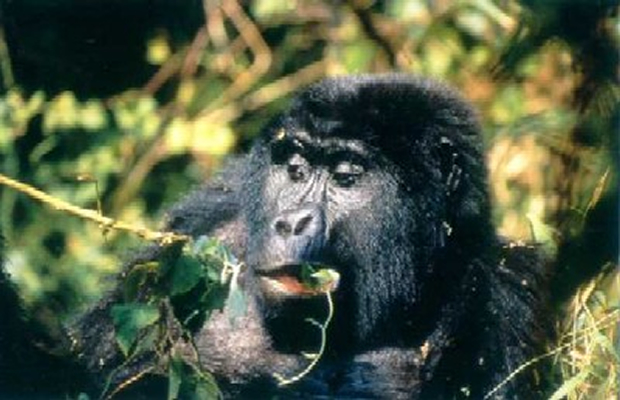 When it became apparent that the most accessible mountain gorillas are found in Uganda, the Government in 1991 gazetted Mgahinga Gorilla National Park. Today, the park is a specially protected home of half of the world's remaining population of mountain gorillas.
As a result, gorilla safaris have become the most sought after tourist attraction in Uganda. With thick variegated tropical vegetation shielded by the shadows of the nearby mountains (Muhavura, Mgahinga and Sabinyo), the new park, the smallest in the country (24 kms2), is an irresistible scene to many visitors.
The areas around the park boast of a string of high rise rock outcrops, crater lakes, thick forests and impenetrable vegetation. It is these features that earned the area the nickname, the "Switzerland of Africa".
Through a special domestication programme, the gorillas have been trained to view man as a friend and not as an aggressor. But to preserve their wild nature, gorilla tracking is restricted to a particular number of visitors a day at a set time.
A keen eye will view several bird species. They include the surwing goose, the hamerkor, white necked Cormorant, Pelican, herons, Hadada Ibis, Crowned Crane, Long Crested Eagle, Pied Kingfisher, African barn Owl, Striped Swallow, Rwenzori tauracos, Subbirs, African wood owls and argur buzzards.
The park is estimated to have a population of 70 elephants. Other mammals include the buffalo, giant forest hog, leopard, Golden cat, hyena, docker, bush buck and the tree hyrax.
Besides the gorillas, there are other primates in Mgahinga. The most common being the Golden monkey. The monkey gets its name from the beautiful golden colour on the fur of its skin – a feature which has made it an endangered species. Also to be found in Mgahinga's trees is the blue monkey.
The park has an alpine vegetation cover with steep volcanic outcrops. The lush vegetation belt consists of giant senecious and giant lobelias. About 63 per cent of Mgahinga is covered in bamboo, which is good for the bamboo shoot-eating gorillas. Set in the southwestern part of Uganda, it takes about seven hours to cover the 498 kilometres between the capital, Kampala, and the park's headquarters.
The park is accessible through Kisoro, the nearest town, on a trunk road through Mbarara and Kabale. The road between Kabale and kisoro is high grade murram.
You should include a primate Safari in your trip to East Africa. There are direct flights to Kampala from Nairobi, Dar-es-Salaam, Harare, Johannesburg, and London. Be sure to book your trip well in advance as the number of people allowed access to the gorillas per day is strictly controlled.
Allen Mutono
Reporting for Safarimate
from Kampala, Uganda