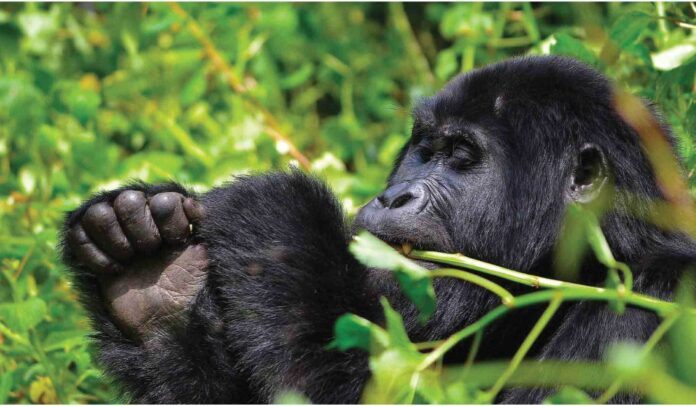 Uganda with its mountain gorillas, Chimpanzees and a wide range of other primate species offers the best primate safari experience in Africa in company of wildlife, birds and other impressive park habitats. The country has much more to offer to its guests than only primates including the breathtaking landscape, rich culture, Lakes, rivers, birds, waterfalls, mountains among others.
The time is now to take a journey through Uganda beautiful well conserved primate national parks encompassing the scenic wonders of the Kazinga channel, Murchison falls Nile, wildlife areas of Ishasha, Kasenyi etc. Take one of the most memorable safaris to Uganda that is amazing like the combined Uganda primate safari and the thrilling wildlife encounter to Bwindi forest, Queen Elizabeth, Kibale forest and Murchison falls National Park.
3 Day Bwindi Gorilla Safari
This trip starts and ends in Uganda and it take you to Bwindi Forest National Park a home to twelve habituated mountain gorilla families, eleven other primate species including baboons, red tailed monkeys, black and white colobus etc, 310 butterfly species, fifty one reptiles, twenty seven species of frogs, geckos, chameleons and over 350 bird species. Usually, on the start day, you picked up from your lodge of residence, or airport and embark on the scenic drive to the park with several stops multiple places of tourism interest; Uganda Equator, Kayabwe drum making home, Igongo cultural museum, Lake Mburo national park, Mbarara town among others arriving at the part lake evening time for diner and overnight stay. Next day is for the main gorilla trekking adventure together with other park tour activities ending the tri with a scenic return drive back to Kampala.
5 Day Gorilla Trek Tour & Wildlife Safari
This is the most popular primate safari in Uganda where you track mountain gorillas in their natural home-Bwindi Forest national Park with other forest habitats and also enjoy seeing tree climbing lions in Ishasha in Queen Elizabeth National Park plus other Big Five. Elephants, Buffaloes, antelopes, forest hogs, hyena, Hippos, crocodiles, crater lakes,600 bird species and the wonderful view of the Rwenzori mountains are one of the must see during this trip. However, Uganda offers the finest primate safari experience in the world being a home to four primate parks and several forest reserves. There are many ways of exploring this primate capital though would highly recommend a trip to see both mountain gorillas and chimpanzees depending on your time and money. You can either travel by yourself on a private tailor made safari or join a group for share the fun jungle wilderness experience.
7 Days Gorilla Tracking, Chimps & Wildlife Safari
This Uganda primate safari starts and ends at Entebbe international airport and its features a blend of primates, culture and wildlife. Expect to explore the best Uganda national parks of Queen Elizabeth National Park where counts of wildlife and chimpanzees exit including tree climbing lions, elephants, Buffaloes, Topis, bush bucks, kobs, hynas, Crocodiles, Hippos, chimpanzees, baboons, monkeys, among others along on thrilling game viewing tour with in the park, Bwindi forest for gorilla trekking and Batwa people for cultural excursions and Lake Mburo is for wildlife, horse riding and boat cruise. The seven day Uganda safari to best tour destinations will give you a chance to explore all the great Uganda impressive primates, and wildlife and if you're a bird lover, you will also have an excellent birding experience on the Kazinga channel in Queen Elizabeth National Park. Discover the wild primates, game and cultures of unique Uganda on this budget Uganda.