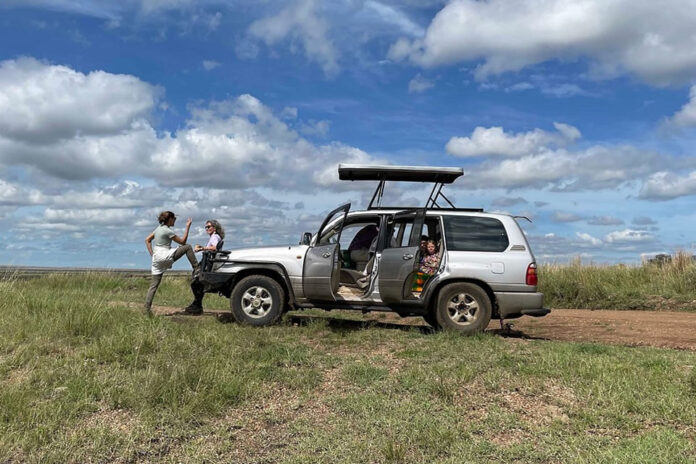 Travel and experience Uganda at its best while on a self guided safari that will take you different top destination in various parts of the country. Whether you want to see gorillas, tree climbing lions, the world's most powerful waterfall – Murchison Falls or more, a self drive in Uganda will present you to that. 'Self guided' implies that you will explore so much that Uganda has within her boundaries on your own.
We have detailed important safety tips that you need to put into consideration before you embark on a trip to this country. These include;
Making Research and Planning the Itinerary
You should make proper research about the preferred destinations, bookings, accommodation, car hire and other transportation services. Consider your budget according to the desired fields and confirm the travel dates before booking for anything.
Ensure that you have all the required documents
Once you have all the required documents, the tour is likely to be enjoyable and rewarding because there will be less disturbances especially on the road. For one to drive on Uganda's roads, you must have a valid driving license from your home country. Other documents needed are Vaccination certificate for yellow fever, valid passport and a visa.
Keep a low profile while in Public
Many travelers always want to be noticed especially when they are in a new area and in doing so this may attract thieves and scammers who may be interested in your money or robbing you. However, a low profile will protect you from such occurrences.
Book the vehicle in advance
You are advised to book your preferred vehicle months prior to your journey as this gives you ample time to choose your desired vehicle and even be able to get a discount which may not be the case with last minute car rental.
Ensure that the car you booked has a spare kit
For travelers who will be visiting different national parks for a game drive, more other activities and other long road trips, we advise you to confirm that your car has a spare tyre, a kit to help you in case of a flat tyre or any other malfunction of the car.
Avoid drinking while driving
The driver should in all ways keep him/herself sober i.e., must avoid drinking alcohol while or when they expect to drive. This will help in keeping you safe while on the road. It  doesn't protect you alone but also other road users.
Travel During Day
A number of visitors barely know different routes or places hence driving during night hours may prove to be a hard task, We therefore advise to travel during day time when there are people on the road who can direct you to your destination, in case you have lost your way or once google maps fails to get you there.
Take clear notice of Uganda's Road networks and traffic rules
Countries have different traffic rules, before you attempt with driving on Uganda's roads, you must be well informed with its road signs and their meaning, rules and regulations that govern the country's roads. You will be penalized once you go against these rules.
Make Proper Use of Guide books and the GPS locator
There are several guide books that can direct you through Uganda's districts and cities.  Travel Guide Books will provide you with extensive information on the country's National parks, Reserves and other tourism destinations. The GPS will help to locate you to a desired destination.
Purchase a local Sim card and write your emergency contacts down
This is done to ensure proper communication in case of any danger. You can also buy a state light phone to ease communication to your people in case you have gone deep in the trails where there is less network.
Obtain Necessary Permits and Permissions
There are some attractions in Uganda that need you to purchase permits before you go for them. These attractions such as, Mountain Gorillas which require a Gorilla trekking permit, Chimpanzees which require a chimpanzee tracking permit. These permits are got from the Uganda Wildlife Authority.
Before engaging in any activity in any of Uganda's tourist destinations, one needs to have permission from the authorities.
Respect wildlife and follow guidelines
While on a self-guided tour, one should follow the guidelines given by experts. Especially when the visitors in parks where there are dangerous animals that can cause harm, visitors must avoid getting too close to them. While moving through trails, the visitors should ensure that they have enough fuel in order to avoid disappointments when the vehicle runs out of fuel during the drives.
Visitors should remain inside the car during game drives in order to avoid attacks from the dangerous animals.
Stay on the designated paths and trails
When tourists are hiking through any park or reserve, they must ensure that they remain on the designated paths and trails just to avoid losing their way.
Wear comfortable shoes for walking, and dress appropriately
At times trails are sloppy especially during the rain seasons and this means you should make sure that the shoes you are putting on are so comfortable and strong to help you move long distances even in slippery areas. Due to the fact that trails pass through forests, women are advised to put on trousers instead of skirts and dresses just for easy movements through the trails.
Keep in touch with your family and friends
The visitors are advised to update their family and friends about how far they have reached with their tour. This helps the friends in case of any danger, they can be able to identify the exact place where you are.
Avoid pull overs at the road sides especially during the night
While driving especially on highways at night, only pull over when you are asked by a traffic police officer. There are many scammers waiting to rob people on highways especially at night.
Always keep an eye on your belongings
The visitors are advised to keep their belongings near them for proper security especially while driving in crowded towns like Kampala.
Get yourself a Travel Insurance
It is very much advisable for one to pay for a travel insurance when traveling far from your home country. Likewise in Uganda, in order protect against financial losses for medication in case of an accident or disease attack during your traveling time, you should pay for a traveling insurance.
Make digital copies of important documents
Make it a point to take pictures and scan your important documents such as the travel documents, reciepts and the permits which you paid for. This puts you on a safer side in case of loss of any of these documents.
Always Travel With Cash in both Dollas and Ugandan Shillings
In situations such as while traveling on highways, there are some items and services to buy which only need cash money, no cheques or online transactions. Situations like buying eats and drinks along your way, tipping and many more.