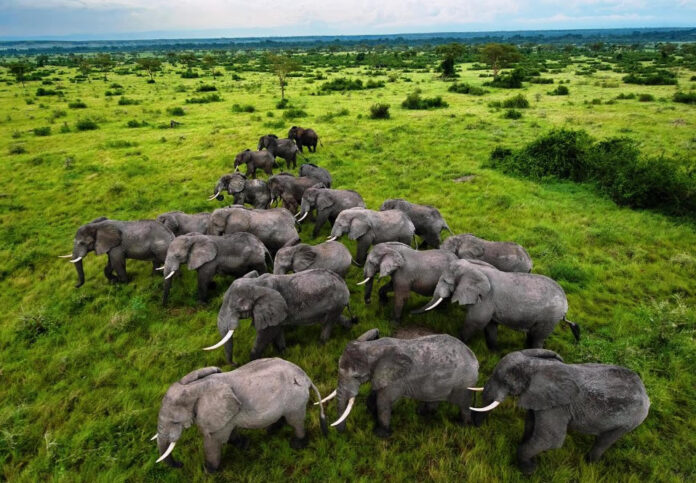 If wildlife is a thing that captures your mind, don't try to omit Uganda on your bucketlist of destinations to see in Africa. This amazing spot has a diverse range of wildlife species including those you can't easily find in other localities around the globe. Whether you are after wild animals, reptiles, insects or various species of birds you are all covered.
Thousands of wildlife enthusiasts come in per year to explore all what Uganda has to offer. If this is your next Uganda safari, listed below are the major exciting places you shouldn't ignore for endless sweeping views of varied Wildlife species.
Where to Go for Wildlife
Wildlife in Uganda is majorly protected in National Parks, game reserves and Sanctuaries. These protected areas are many, therefore named below are some of the must visits.
Queen Elizabeth National Park
When it comes to Wildlife Safaris in Uganda, Queen is highly rated and stands among the mostly visited parks. Established in 1952 as Kazinga channel National Park, this protected area was later renamed to Queen Elizabeth Park to honor the visit of Queen Elizabeth II. Additionally Queen Elizabeth covers a total area of 1978 square kilometers which span three districts including Kasese, Rukungiri, Kamwenge and Rukungiri. It is bordered by Kyambura gorge, Kalinzu forest reserve and Lake George in the east, Lake Edward and Ishasha River in the west. It lush habitats are home to a number of Wildlife species including the rare tree climbing lions in the Ishasha sector. Other than Wildlife, Queen consists of over ten crater lakes.
Murchison Falls National Park
Covering a total area of 3898 square kilometers, Murchison is the largest National Park in Uganda. It is geographically located in the north western part of Uganda and straddles four districts that include Kiryandongo, Masindi, Nwoya, and Buliisa. By road, this Park is about 283 kilometers North West of Kampala. From Kibanda area, it is about 72 km up to Masindi the nearest large town. What's more, Murchison Falls National Park is bisected by the Victoria Nile for a distance of 115 km. adding to the falls, Murchison Falls National Park invites tourists with its Wildlife that consists of animals like elephants, buffaloes, various bird species and more.
Budongo Forest Reserve
This is one of the notable forest reserves in Uganda. It is also located in the north western part of Uganda near Murchison Falls National Park and part of the Murchison Falls conservation area. It is a great habitat to a number of Wildlife species but most tourists visit it for the unique bird species and the chimpanzee primates. Other species that enjoy cool atmosphere of this reserve include primates like baboons, red tailed monkeys, colobus monkeys, reptiles, insects like butterflies and more.
Ziwa Rhino Sanctuary
This is a dream destination for Rhino lovers. It is located in central Uganda, Nakasongola district. Since it is located along Kampala – Masindi – Gulu highway, most travelers use it as a great stopover while heading to Murchison Falls National Park. Ziwa Rhino Sanctuary was put in place mainly to reintroduce the species of Rhinoceros back to Uganda. It is currently homing the species of White Rhinoceros. Some were imported from Solio ranch in Kenya and other donated by Disney Kingdom of animals.
Kibale Forest National Park
For those who are visiting Uganda mainly for primates, Kibale Forest National Park should be your first start. This ever green protected area is located in the western part of Uganda. Fort portal is the nearest town from this Park. Part of its area is occupied by the notable Kibale forest. This forest is a great home to many wildlife species including the thirteen primates, bird species, reptiles and more. These 13 primates includes the chimpanzees, the main reason for most safaris to this park.
Kidepo Valley National Park
Situated in the far north eastern Uganda, Kidepo is the most isolated park in Uganda. It stands amongst the most rewarding parks if it is Wildlife in Uganda. It was declared as a national Park in 1962 and plays host to multiple species including the ones that are rarely found in other Ugandan parks. Located in Kaabong district, this park is ranked the third best National park in Africa. Its location in a core of savannah landscapes and mountainous sceneries makes it one of the most photogenic areas in Uganda. Kidepo's rich fauna is composed of 470 bird species and over 75 species of mammals.
Lake Mburo National Park
If you fancy a blend of wildlife encounters and boat cruise, you should look no further than Lake Mburo National Park. This Park is located in western Uganda near Mbarara town. It is rated to be the nearest park from Kampala, Uganda's capital. It biodiversity consists of plant life, wild animals, reptiles and insects. Some of the animals that tempt wildlife addicts are elephants, Zebras, topi, buffaloes and numerous antelopes. Boat cruise along the waters of Lake Mburo offers endless views of aquatic species like water birds, crocodiles and lake side scenery.
How to see Wildlife in Uganda
There are many ways to immerse yourself into Uganda's rich wildlife. Some of these include game drives, boat cruise, nature walks, forest walks and camel riding. In Uganda, camel riding is only offered in Lake Mburo National Park.