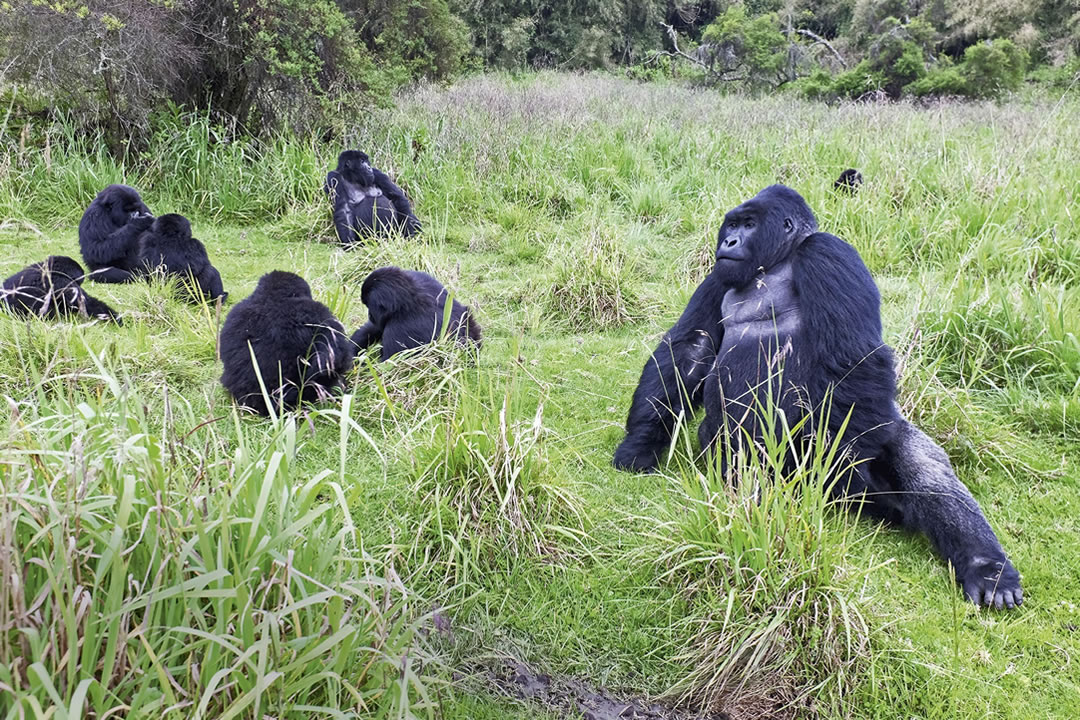 Why trek gorillas in Rwanda? Trekking to view mountain gorillas in Rwanda is by far the most captivating experience and that is why most visitors on Rwanda safari visit Volcanoes National Park. Mountain gorillas are only found in Uganda, Rwanda and the Democratic Republic of the Congo (DRC) and a trek to view them lets you to have a magical encounter with these world's massive apes and also unveils you to wide range of habitats and other iconic attractions which position these destinations as a must-visit. Currently, about 1063 mountain gorillas still exist in the world and in Rwanda, they are trekked only in Volcanoes National Park.
Volcanoes National Park is found in Northwestern Rwanda and getting here can take you about 2-3 hours. This park sits in an area of 160sq.kms and its establishment in 1925 was primarily to inhabit the endangered mountain gorillas. It forms part of the Virunga Conservation Area (VCA) and today, not only does it host mountain gorillas but also other wildlife species including golden monkeys, over 200 bird species, variety of plant and tree species. Volcanoes National Park derives its name from Virunga volcanoes and out of the eight Virunga Volcanoes, about five of them are all within this protected area and they include Sabyinyo, Muhabura, Gahinga, Bisoke and Karisimbi.
World class wildlife adventure
Mountain gorilla trekking is by far a world class wildlife safari experiences which is offered in only Uganda's Bwindi Impenetrable National Park and Mgahinga Gorilla National Park, Rwanda's Volcanoes National Park and DR Congo's Virunga National Park. This is why a trek to see mountain gorillas in Rwanda should be a must-do on your next safari in Africa. An hour with a habituated gorilla family of mountain gorillas in their natural habitat is a memorable experience worth the money, energy and time. In Rwanda, trekking to see mountain gorillas is only possible in Volcanoes National Park.
This park is the most accessible among all the gorilla destinations. It is located about 2-3 hours from Kigali capital city and it comprises of ten habituated families which include Agashya (Group 13), Susa A, Bwenge, Karisimbi, Ugenda, Hirwa (which currently moved to Uganda's Mgahinga Gorilla National Park), Amahoro, Kwitonda, Umubano and Sabyinyo.
A Rwanda gorilla safari is incomparably a unique experience and unlike other wildlife adventures, it is one of the only adventures that involve hiking through the lush jungles, steep slopes to see and explore in depth about mountain gorillas. For a game drive to see lions in Murchison Falls National Park, Queen Elizabeth National Park, Kidepo Valley National Park, this isn't possible as it requires you to be in a safari vehicle.
Rwanda gorilla permits are future prospects
Currently, there are only 1063 mountain gorillas that still thrive on earth and given this fact, no one knows what tomorrow holds and so is the future of gorilla tourism trend.  By you obtaining a gorilla permit carries a lot of meaning in the conservation and tourism fraternity. The revenue collection from gorilla trekking permits is used to help facilitate several conservation activities and support local community projects in Volcanoes National Park which is why a trek to see mountain gorillas should be a must-do while on Rwanda gorilla safari.
Gorilla trekking permits in Rwanda cost $1500 per person. However, the experience thereafter is worth it. You can obtain your gorilla permit in Rwanda through our reservation team or directly with Rwanda Development Board (RDB).
Lifetime safari experience with a lot more to experience
Trekking to view mountain gorilla isn't only about getting up close with mountain gorillas but also for you have a glimpse at distinct wildlife in different habitats within the park. In addition to trekking mountain gorillas, visitors can also add golden monkey tracking in Volcanoes National Park, bird watching, cultural tours, Musanze cave exploration, volcano climbing, nature walks, hike to Dian Fossey tomb site to mention but a few. Alternatively, you can incorporate your adventure with unique canopy walk-the first of its kind in East Africa and only done in Nyungwe Forest National Park or embark on chimpanzee tracking, birding, hiking or visit Akagera National Park for game viewing.
Iconic Tourist Attraction in Africa
Mountain gorilla trekking is by far the most iconic tourist attraction in Africa and on the planet at large. It is only experienced in Uganda, Rwanda and DR Congo and compared to the rest of wildlife experiences, enthusiastic travelers get value for their money while on gorilla safari in Rwanda, Uganda or the DR Congo. Gorilla trekking is one reason why majority of visitors confine in Rwanda and remarkably, mountain gorillas are star attractions.
In conclusion, tracking mountain gorillas in Rwanda is such a thrilling wildlife experience which is why you should consider the Land of a Thousand Hills a must-visit.