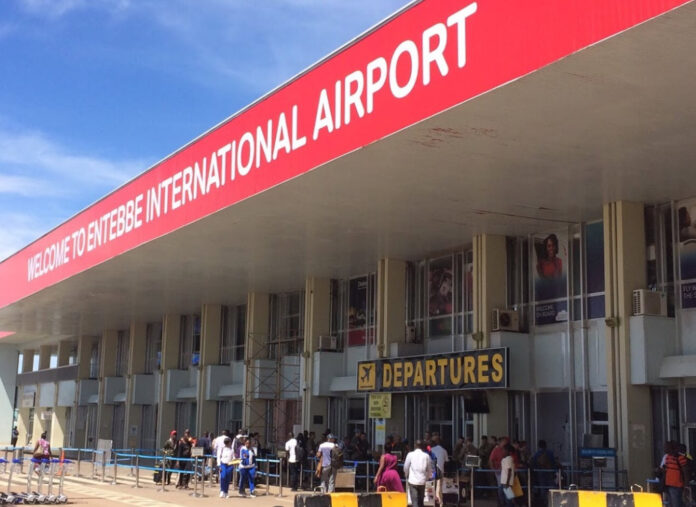 Entebbe International Airport is Uganda's only international airport and also serves as the main entry point to and from other states. The second international airport (Hoima International Airport also referred to as Kabaale International Airport) is still under construction and soon be opened.
The Entebbe Airport (EBB/HUEN) is found 6km southwest of Entebbe city/town close to Lake Victoria northern shores. From the heart of Kampala, Uganda's most vibrant city, the airport is about 40km. Two terminals are available at the Entebbe Airport and handle domestic and international flights. Many international airlines operate at the Entebbe International Airport and include Qatar Airways, Kenya Airways, Rwanda Air, Brussels Airlines, KLM Airlines, Air Tanzania, South African Airways, etc.
The airport is also Uganda's hub for the Uganda airline that resumed its operation after over 8 years. This airline does direct and scheduled flights across East Africa and other destinations including Mogadishu, Bujumbura, Juba, Kilimanjaro, Mombasa, and Dar-es-salaam. EBB was launched for operation in 1951 and in 2015, it underwent construction in a move to expand it, and even to date construction works are undergoing.
Important Travel Requirements to have at EBB
If you are visiting Uganda soon for a holiday, there is need to be sure of what requirements are needed for arriving/departing guests on Uganda safaris. These requirements are needed before boarding the plane and after landing at the Entebbe International Airport- EBB. They include;
Valid passports – you need a valid passport due to expire at least 6 months.
Visas –travel visas are essentials for you to have access to Uganda. You can apply for the Uganda Visa online or on arrival at the immigration office at EBB.
The reason for visiting Uganda- once you have landed, you will be required to present a travel itinerary.
Yellow fever card- a yellow fever vaccination card should be obtained before the actual date of travel. In case you don't have one, you will be required to get vaccinated on arrival at the airport. Not to waste any time going through unnecessary processes, better if you do the vaccination back home.
Return ticket – return ticket indicates how long you plan to be in Uganda –short or you plan to stay permanently. Permanent staying may require you to give reasons.
Proof of funds – bank statements should be presented at the airport –cash/credit cards and serve as proof that you hold enough money to take you throughout your stay in Uganda.
Services & facilities offered at the Entebbe Airport
Airline lounge –the airport lounge is a privately run departure lounge for economy class guests. They are handled during waiting hours for their departure.
VIP lounge- a government-run facility that handles diplomats and government officials
Baby changing facility- comes with washroom facilities.
Baggage facility –guests' pieces of baggage are identified according to their names, address and they can also be wrapped but at a charge.
Meeting passenger facility- a place where drivers/guides wait for their passengers to transfer to their destinations.
Domestic airlines that operate at the Entebbe Airport
Aero Link –this handles domestic flights, especially scheduled and chartered flights setting off from Entebbe International Airport (EBB) to different destination airstrips in Uganda. They fly to Kisoro, Kihihi, Mweya, Kasese, Chobe airstrips, Lamoj airstrip, Pakuba, Ishasha airstrip, and others. It is possible to go on a scheduled or chartered flight to Queen Elizabeth National Park, Kidepo Valley National Park, Bwindi Impenetrable National Park, or Mgahinga National Park for mountain gorilla trekking, Semuliki National Park, etc.
Bar Aviation – this is a new competition in the market to Aerolink. It does offer scheduled flights from Entebbe International Ariport of Kajjansi to the different destination in and close to the national parks of Uganda as well as to towns like Arua, Jinja, Mbarara. They have their offices in Kajjansi at Gate 3.
Eagle air- operates privately chartered and scheduled flights to regional airstrips and other destinations. For quick connection to regional destinations, you can as well consider Eagle air airline which operates from Entebbe airport to Moyo, Adjumani, Arua, Kitgum, Chobe, Kidepo, Soroti, Kisoro, Mweya, Kasese airstrips, etc.
Where to visit close to Entebbe Airport?
Entebbe International Airport is strategically lying in a tourist area. There are countless sites to consider for a tour near Entebbe Airport. You can simply hire a driver to take you around Entebbe especially if your connection is at a much later time.
The attractions around Entebbe include; Ngamba Island which protects orphaned and rescued chimpanzees about 52 of them. These live in Ngamba Island Chimpanzee Sanctuary on Lake Victoria.
Uganda reptile village –home to over 50 reptiles including monitor lizards, Jackson's chameleon, pythons, puff adders, leopard tortoises, forest cobras, crocodiles, mambas, and more.
For an unforgettable birding experience, don't miss visiting Mabamba swamp. This wetland area is endowed with amazing birds including brown-throated weavers, shoebill storks, papyrus canary, white-winged black terns, blue swallows, goliath herons, and others. You can also explore Lake Victoria and its beaches, the Uganda Wildlife Education Center, take a boat cruise/ride, enjoy a sunset cruise, sundowner, and more.