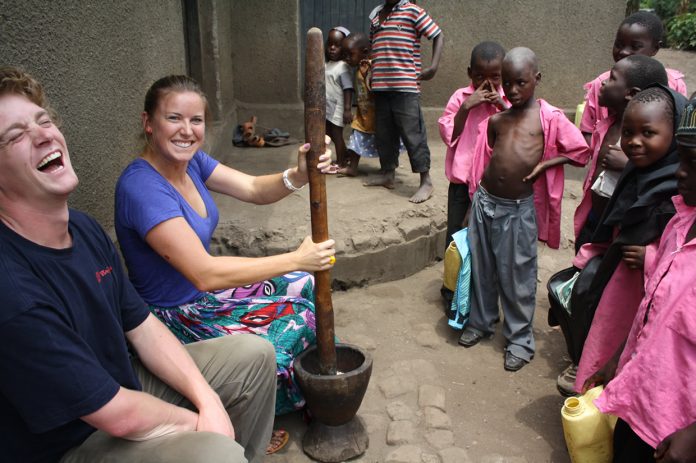 What is your idea of an ideal holiday in Africa? Maybe choosing atop adventure, Is it spending time with friends and family exploring new places or perhaps meeting with interesting people or trying exciting adventure activities like Mountain climbing, Nature walk, horse riding and game viewing. Is it lazy lunches in beautiful surroundings and days spent drenched up the sunshine on a sandy beach?
Welcome to Uganda- where we can honestly say that you can have it all. Here are our Top 15 reasons to visit this phenomenal place, which is often known as 'the Pearl of Africa' or 'Africa Condensed' or Gifted by nature'.
The Mountain Gorillas
Uganda is one of the very few countries in the world that host the endangered Mountain Gorillas and it's the only country in the world where you can do gorilla trekking in two different national parks and that is Bwindi Impenetrable and Mgahinga Gorilla national parks. Gorilla tracking is the highlight of any adventure trip to Africa, Uganda proudly host over half a world total population of this world's most endangered species with 98% human genes.
Gorilla trekking trips can be done all year round but most tourists prefer arriving in the months of June, July, August, September, October and then December, January, February to March. These are relatively dry seasons and also favor visiting other National parks for more Wildlife safaris especially game drives. Your visit to see these critically endangered gentle giants in their natural habitat is always seen as an effort to conserve them as you are always rewarded with a conservation certificate at the end of the trek
Murchison Falls
Experience the world's most powerful waterfall, the Murchison Falls. This amazing waterfall is located between Lake Kyoga and Lake Albert on the Victoria Nile in Uganda is among the world's top wonders. At the top of Murchison Falls, the Nile forces its way through a gap in the rocks, only 7 m (23ft) wide, and flip-flops 43 m (141 ft), before plugging westward into Lake Albert.
The falls lend their name to the surrounding Murchison Falls National Park where you can view lots of wildlife including; the giant Nile crocodile, Giraffes, Elephants, different Antelope species and this believed to be the largest hippo pool in Africa. A boat cruise to the bottom of the falls rewards you with a chance of viewing this wonderful wildlife as well as enormous bird life. Enjoy adventure activities here like Game drives to look for four of the big five, Hike to the top of the falls, Spot fishing, chimpanzee tracking, among others.
The Big Five
Eyewitness the Big 5 on a Uganda Safari' the country bosts of a total of 10 national parks and a growing selection of superb reserves and sanctuaries, these prepare you for the Big 5 Animals and the special two (Gorillas and Chimpanzees) while in the country. Try an exclusive Uganda safari in the world-renowned Murchison Falls National Park; some family time in Queen Elizabeth National Park; or combine game viewing, primate watch with a beach vacation in Ssesse Islands in the middle of Lake Victoria.
Uganda's varied terrain allows you to spot savannah dweller animals like Giraffes, Lions, hundreds of various antelope species in Kidepo Valley, Queen Elizabeth and Murchison Falls National parks, then search some of the most densely populated leopard country in lake Mburo National park's night game drive as well as seeking out birds of prey like the eagle owl, lappet faced vulture.
The Chimpanzee experience
Among the most exciting animals to see on a Uganda adventure is the chimpanzee. Apart from Mountain gorillas these are the most popular primate species to tourists. Uganda has a population of close to 5000 chimpanzees distributed in the various forests and game parks, including Kyambura gorge, Budongo forest and the famous Kibale forest which has a total of 13 different primate species the highest of any forest in Africa. You will be excited to walk through a jungle thick rain forest and sit among the human closest cousins. Watch them take on their daily activities the experience can either be chimpanzee tracking or chimpanzee habituation experience
Tree Climbing Lions
Ishasha sector, south of Queen Elizabeth National park is one tourist spot that is well known for its tree climbing lions in Uganda. Once here, you will get a chance to see these lions in the Sycamore Fig trees along with the Acacia trees. The beauty about these Sycamore Fig trees is that they provide enough shelter to the tree climbing lions more so during the rainy season. They are thick to give support to the lions, unfortunately it's such a very rare opportunity to spot these lions as chances are dictated by weather conditions, the lions spend the entire day climbing trees and some resting under the cool environment. It has a beautiful sight that you may not discover in the whole of Africa. Other animals in this part are antelopes like Topis, herds of buffalos, Elephants, Hyenas among many.
Climbing Mountains of the Moon
The Rwenzori Mountains also known as "mountains of the moon" is the second tallest mountain in Africa after Tanzania's mountain Kilimanjaro. Recognized by UNESCO as a world heritage site, is enviously protected as Rwenzori Mountains National Park and managed by Uganda Wildlife Authority. This snowcapped mountain is located along the border of Uganda with Democratic Republic of Congo. There are quite a number of trekking routes but the most recommended Rwenzori Trekking route is 9 Days Rwenzori Hiking trip and 7 Days Climbing Rwenzori mountains using the central circuit route
The exceptional landscape of the Rwenzori mountain range is spectacular, which is by far the biggest glaciers in Africa, unmatched beauty, and of very different appeal to the high single standing volcanoes of Kilimanjaro or Mount Kenya. The DRC side which is a lot drier gives an relaxed and beautiful approach off the beaten track to get to the summit range.
White Water Rafting Experience
The source of the Nile in Jinja; is where you find one of the most spectacular white-water rafting destinations in the world and for many visitors to Uganda a rafting trip is the highlight of their visit. Started on the River Nile in Uganda in 1996 after 10 years of first scouting the river, news hit world headlines before finally introduced to the country. Here you can expect long, rollicking strings of Grade IV and V rapids, with plenty of thrills and spills. This experience is ideal to tourists or travelers who have a day to spare in Kampala.
There are about four different companies offering white water rafting service in Jinja, East Africa's adventure Capital, including Nalubale Rafting, Nile River Explorers and Adrif Uganda. Wild or Mild; There are always options for enthusiasts
The People and Local Culture
Friendly people & various unique local cultures, Uganda is known for her hospitable people, visitors often comment on the fact that Uganda is hospitable… yes, we are a friendly bunch! We love to welcome new people and passionately recommend our favorite places and interesting things to do. We are a melting pot of many mesmerizing cultures making one nation so you'll hear several distinct accents in our English, notice many different faces and taste a rich fusion of flavors in our cuisine. You can learn to cook traditional Mashed matooke (green banana) while in Kampala, you can visit Kabaka's Tombs (King's burial grounds) and walk in the footsteps of history this powerful Buganda Kingdom while in the Kabaka's Palace (Kings Palace). Participate in local banana gin making in one of country's remote villages
The Source of the Nile
The Nile River is known to be the longest river in the world. Its source starts right from Jinja – Uganda, where 30% of the waters come from the springs and 70% flow from Lake Victoria. The boat cruise right to source rewards you with views monuments like John Speke a British explorer who discovered the source of the Nile, view variety of bird species including the giant King fisher, great cormorants, cattle egrets, goliath heron African Darter, among many.
Some people may be wondering how the name Nile come about. This is a famous Greek word meaning 'valley'. The river starts from Lake Victoria which is shared between 3 countries (Uganda, Kenya and Tanzania) in the Eastern part of Africa. The Nile flows from the close areas to the equator to the outrageous Safari desert and up to the Egypt eastern side of Mediterranean Sea.
The Beautiful Weather
With both tropical and Savannah type of climate making the country to have the best weather in the world,  from the high mountains in the north, the beautiful savannah grasslands and then the thick rush tropical rainforests in the west is what describes Uganda. Did you know that Uganda enjoys both sun and rain almost throughout the year?  Even the November and March 'rainy season' over the country is actually quite sunny: rainfall generally consists of short-lived showers, leaving the air washed clean of dust and making for bright, crisp photographs.
The Ssesse Island Beaches
The Beaches (Ssesse Island Beach Holiday) arguably has one of the finest beaches in the world, All the way along the Equator line, Ssesse island beaches are found in the middle of Lake Victoria where you experience the best sunset in the world. You'll find long stretches of pristine golden sand lapped by waves that become warmer and warmer the further you go – there are even tropical coral reefs and excellent diving and swimming, go for a nature walk through the tropical rain forest found on the same islands.
The rich history
How far back do you want to go? Uganda is endowed with rich history, the powerful kingdoms in Africa, well organized with unique cultural values. This rich cultural heritage is drawn from Uganda's 52 different tribes; visit some of the King's palaces for exciting stories of different kingdoms like the Buganda, Torro, Bunyoro and Busoga Kingdoms. For a taste of more Uganda's history, we highly recommend the Uganda museum where excellent guides bring to life the world of 1800 and 1900 hundreds, when Uganda went through lots of evolutions.
Uganda's remarkable modern political history is perhaps best illustrated during independence achieved in 1962 as well as the brutal rule of dictator Field marshal, General Iddi Amin Dada in 1970s and the battle wars of 1980s that brought the current regime led by now General Yoweri Kaguta Museveni into power.
Value for money
It's value for money and best suited for any traveller to Uganda, it's easy to find a cozy guesthouse, budget lodges or family-run lodge that offers that extra bit of holiday pampering plus great value for money. What's more, eating out in Uganda is very affordable, so you can generally enjoy a great meal and local vintage without the bitter aftertaste of an unreasonable bill.
In addition to  value for money, a safari can often be all-inclusive so you know exactly what you're in for, for example Uganda has one of the lowest costs of a gorilla trekking permit compared to other countries as well as reasonable park entry fees and affordable accommodation units. Ask your Safari Expert to create a tailor-made itinerary that suits your budget and as inclusive as possible.
Both Kampala and upcountry restaurants offer excellent food & wine at extremely reasonable prices – the sunshine is free!
Good infrastructure
Uganda welcomes a steady flow of international airlines at Entebbe international airport and new Airports constructions are underway around the country such at Hoima Airport, while others are being upgraded. Also, once here, you'll find a network of national highways roads criss -crossing and winding through farmlands, nipping along magnificent mountainous west. Uganda is one of the few countries in Africa where we recommend a self-drive holiday – a fantastic option for independent travellers.
In addition, Wi-Fi is widely accessible, the mobile phone network is excellent, ATMs are readily available and self-drivers will never be far from a full-service gas or petrol station.
Superb food & wine
When you visit Uganda, we highly recommend a taste of local food as well as international cuisine while  exploring the pearl of Africa, sampling the award-winning wines in cool cellars and on vine-covered courtyards, and sampling some of the world's best cuisine in its sumptuous restaurants. In the country's nature reserves, indulge in brewing the local brew the Matooke gin in some of Africa's remotest communities, fortifying you for a comfortable hike of the magnificent Rwenzori Mountains.
The Rolex is Uganda's top tasty 'foodie' that is also served if you board with Uganda Airlines, Uganda is hubs for  great coffee that Arabica coffee grown in high attitudes of Mt. Elgon and Kigezi region, exciting markets and inspiring restaurants that meld local flavors with international trends, all dished up with typical Uganda hospitality.